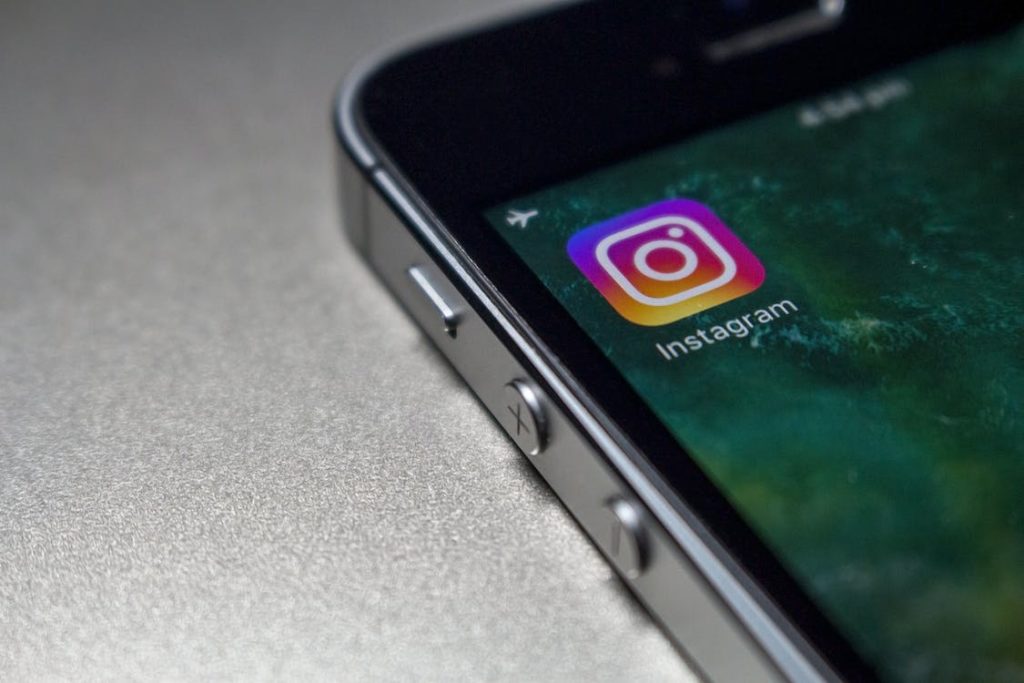 Instagram. A marketer's friend or foe? We dive into all things Instagram, how the algorithm is changing, and what it means for social media strategies. 
'Instagram, who?'
Since its launch in 2010, Instagram has become a popular way to connect visually with family, friends, celebrities, businesses, and more. What once started as an instant photo-sharing app, was acquired by Meta in 2012 and evolved to include many different features, including:
Instagram Reels 

Instagram Stories 

IGTV 

Instagram Live 

Instagram Guides 
How do businesses use Instagram?
But, how do businesses use this social media channel to their advantage? Well, believe it or not, you can use Instagram to push brand awareness, boost sales, drive customer advocacy and analyse valuable audience insights that can be used within the wider marketing strategy. 
Is Instagram declining? 
Sounds great, right? Well, it's no secret that businesses (and users!) are suffering from a decline in engagement rate. Think about it, you might have found yourself using Instagram less frequently than usual. TrustInsights.ai illustrates the decline throughout 2019 in the graph below: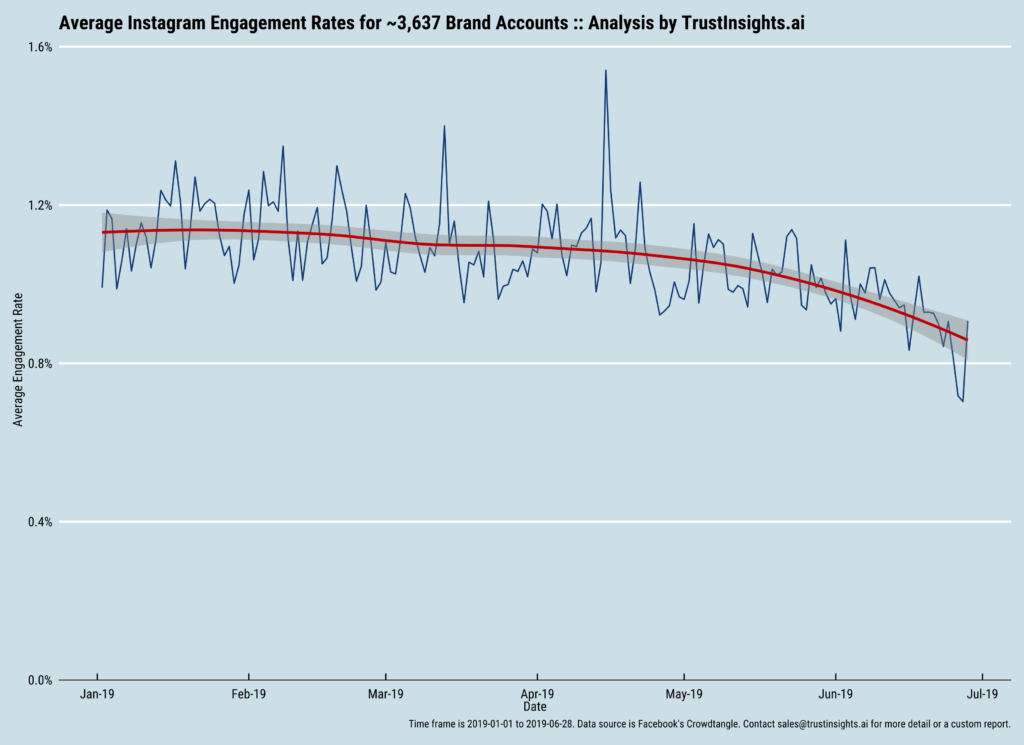 Does this correlate with the rise of TikTok?
So, why is this happening?
Well, in large part, this is due to the growing popularity of the short-form video sharing app, TikTok.
The video below illustrates just how quickly TikTok crept up on each of the social media giants from 2003 – 2019. Further, UNILAD recently reported that Mark Zuckerberg, the CEO of Meta, has officially fallen from the top 10 wealthiest people on the planet for the first time since 2015.
The domination of TikTok 
Launched in 2016 by the Chinese technology company ByteDance, TikTok now has over 2.5 billion installs and is positioned within 150 different markets. Its short-form video content with a length of 15-60 seconds, and carefully curated algorithm, managed to spark the interest of the younger generation, Gen Z. It presents a valuable opportunity for businesses to create fun and unique video content surrounding their products, geared towards the younger generation. 
Did COVID-19 affect the quick growth of TikTok?
There's no doubt that COVID-19 accelerated TikTok's popularity. Confined in our houses, fuelled with boredom, and the longing to keep busy just so happened to be the perfect formula for its explosion in popularity.
Not to mention, celebrities all over the globe such as Justin Bieber, J.LO, and Camila Cabello also caught wind of the rise in popularity and hopped on trending challenges such as #BoredInTheHouse and #BlindingLightsChallenge. 
During September of the 2020 lockdown, TikTok hit a mind-blowing 53.5 million weekly average users in the U.S. alone. That's a massive 75% increase from the start of the same year. And more recently, TikTok became the most downloaded app in 2021, with no signs of slowing down.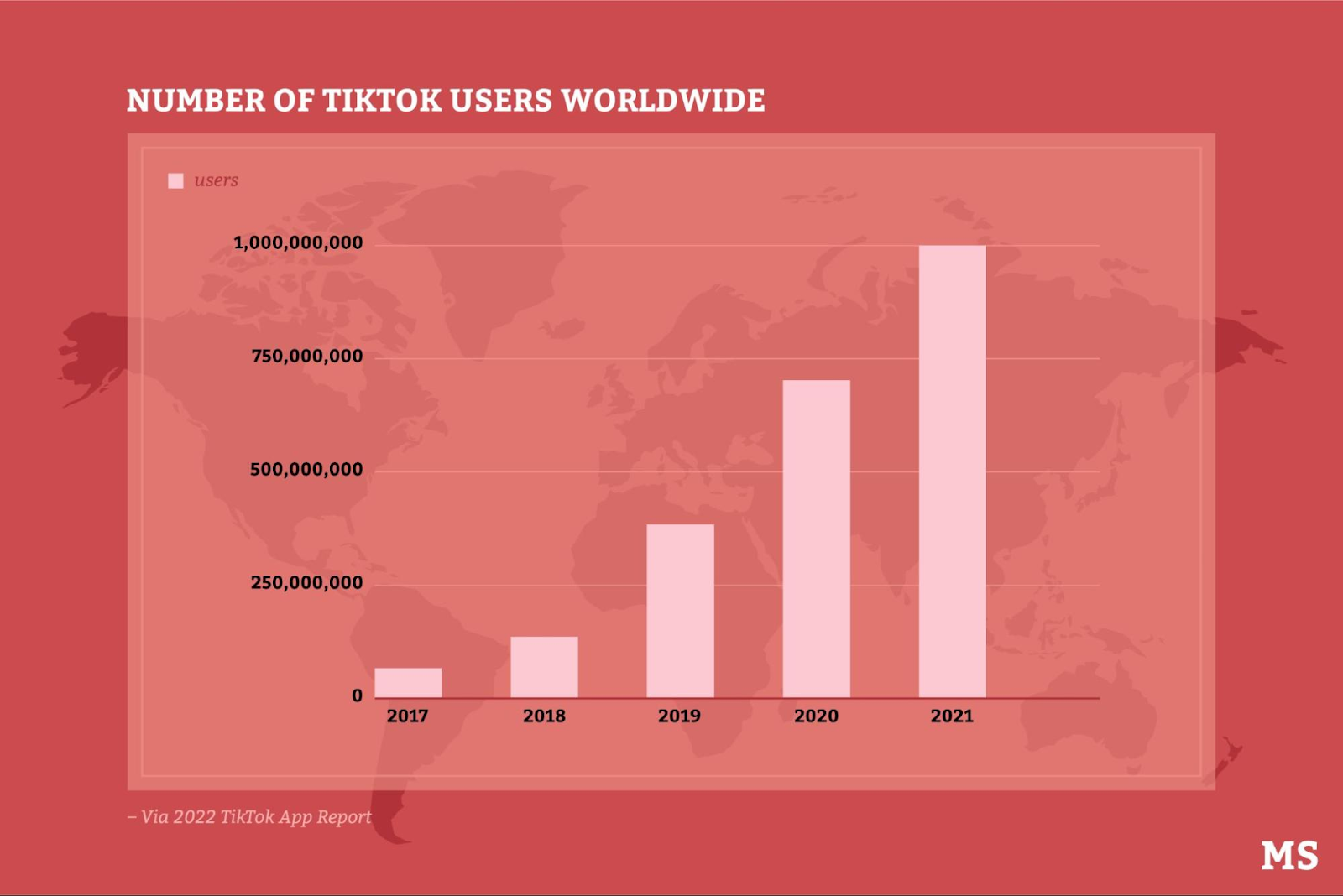 Who's using TikTok to their advantage?
Thanks to TikTok's short-form content and tailored algorithm, much more content can be consumed, hence the high views. With more people seeing the content, comes the chance for more engagement. This is where TikTok excels in higher engagement rates. Compared to Instagram's average 4% engagement rate, TikTok's micro-influencers are averaging a whopping 18%. 
With statistics like these, it's no surprise that businesses are taking advantage of the opportunity to create fun and quirky content. It's not just the larger businesses reaping the benefits of TikTok, small businesses have also joined in, with there now being an entire community surrounding #SmallBusinessTikTok, and many of them thanking TikTok for the majority of their business. 
So, who's using TikTok to their advantage?
All three of these businesses utilise TikTok trends, give an insight into their business and use a fun, innovative approach.
Marvel not only manage to promote their media, but that also grown a large community by allowing their talented artists to create step-by-step tutorials so their fans can learn to draw their favourite characters.
On the other hand, Gymshark takes the TikTok culture by storm, and reflects the upbeat tone of voice effectively. They create fun, sharable, and relatable content, whilst also jumping straight on any TikTok trends.
Finally, we have the small business, 3am Latte, who gives her audience a satisfying insight into how she creates her products and runs her business. 
Instagram Reels, enter the chat
In August 2020, Head of Instagram, Adam Mosseri, introduced the very familiar looking Instagram Reels to the platform. They became the new way to create and discover short-form, entertaining videos on Instagram. They allow users to record or edit multiple clips with creative tools such as music, effects and text. 
Are Instagram Reels
really
that similar to TikToks? 
Sound familiar?
Well, you wouldn't be the only one to think so.
Mosseri's comment section flooded with Instagram users claiming that they were either copying TikTok, or were too similar to TikTok. Once Instagram launched the feature, it just confirmed peoples suspicions. Reels has it's own dedicated explore page, much like the for you page on TikTok, with a swipe up feature to allow users to continue on to the next video. 
Do you intend this to be a TikTok killer feature?

— arunav konwar (@arunavkonwar) August 5, 2020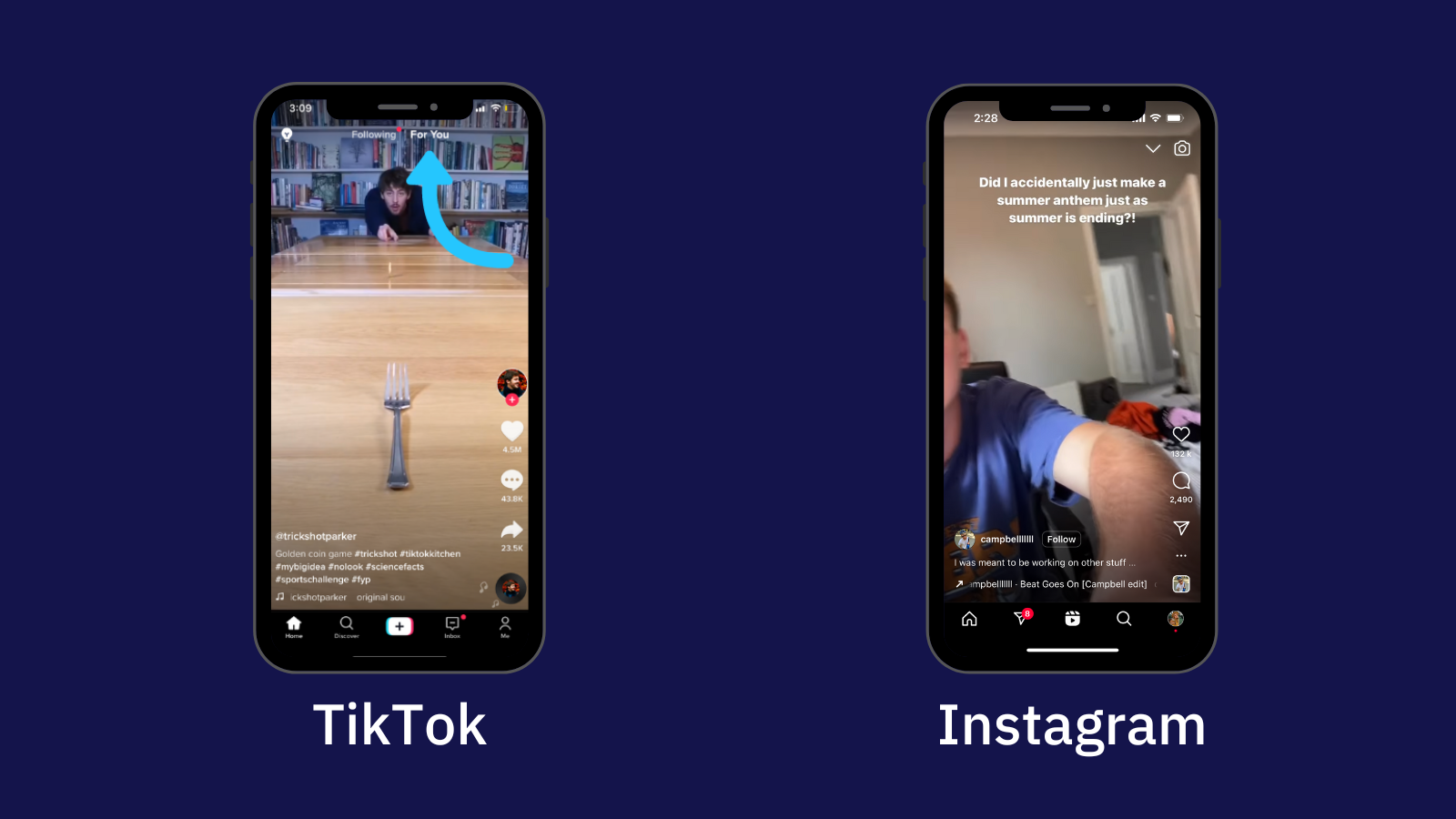 This isn't the first time Instagram has been copy-cats 
This wouldn't be the first time Instagram has straight-up copied another social media channel's features.
In 2016, the peak of popularity for the photo-sharing app, Snapchat, and Instagram introduced "stories". The fact that Snapchat stories were a way for users to post real-time imagery over the latest 24 hours, worked well for them. Really well. Instagram wanted in and knocked Snapchat off its pedestal. But the question is, will this be the case for TikTok?
sooo does anyone else not open Snapchat anymore? Or is it just me… ugh this is so sad.

— Kylie Jenner (@KylieJenner) February 21, 2018
Instagram begins to push Reels over photos
Now we've got the similarities between Instagram Reels and TikTok out the way, let's talk about the announcement that blew up the social media marketing community. Earlier this year, users across the globe found that they were getting a ridiculous amount of Instagram Reels in their feeds, and Mosseri took to his social media channels, in video form, to address some of the concerns. 
He clarified that Instagram would be shifting more and more to videos over time, whilst also continuing to support the photo side of the app. He claimed that Instagram users are sharing more videos over time, and that only seems to be continuing, so they have to lean into this change. 
Not only did he announce this shift to videos, but he also touched on recommendations. Recommendations are posts featured on your feed from accounts you don't follow, it should allow you to discover new and interesting things. However, many users found these to be primarily videos. These two updates combined caused the majority of users' Instagram feeds to become mainly Reels, with a few photos sprinkled in now and then. 
👋🏼 There's a lot happening on Instagram right now.

I wanted to address a few things we're working on to make Instagram a better experience.

Please let me know what you think 👇🏼 pic.twitter.com/x1If5qrCyS

— Adam Mosseri (@mosseri) July 26, 2022
The backlash
In Mosseri's initial announcement on Instagram, he mentioned that Instagram Reels would be a major part of Instagram's next chapter. This, combined with users' feeds littered with Reels from accounts they don't even follow, is where the backlash truly avalanched. 
This particularly ticked off Social Media Managers, including myself, as we had to completely overhaul our clients' social strategies, and create primarily video. Many don't have any experience creating and editing videos, and many of us questioning whether we would be posting identical content to different social media channels.
But hey, Social Media Managers aren't the only ones to get annoyed over this, average Instagram users also joined the backlash. "Stop trying to be TikTok, I just want to see cute photos of my friends" – was a post created by Tati Bruening, a U.S. photographer, which was shared what felt like all over Instagram and also received over 2.2. million likes. 
View this post on Instagram
Even Instagram royalty, Kylie Jenner and Kim Kardashian, shared the viral post to their combined following of over 600 million. The backlash began spiraling out of control, and a "save Instagram" petition even landed over 300,000 signatures. Yikes.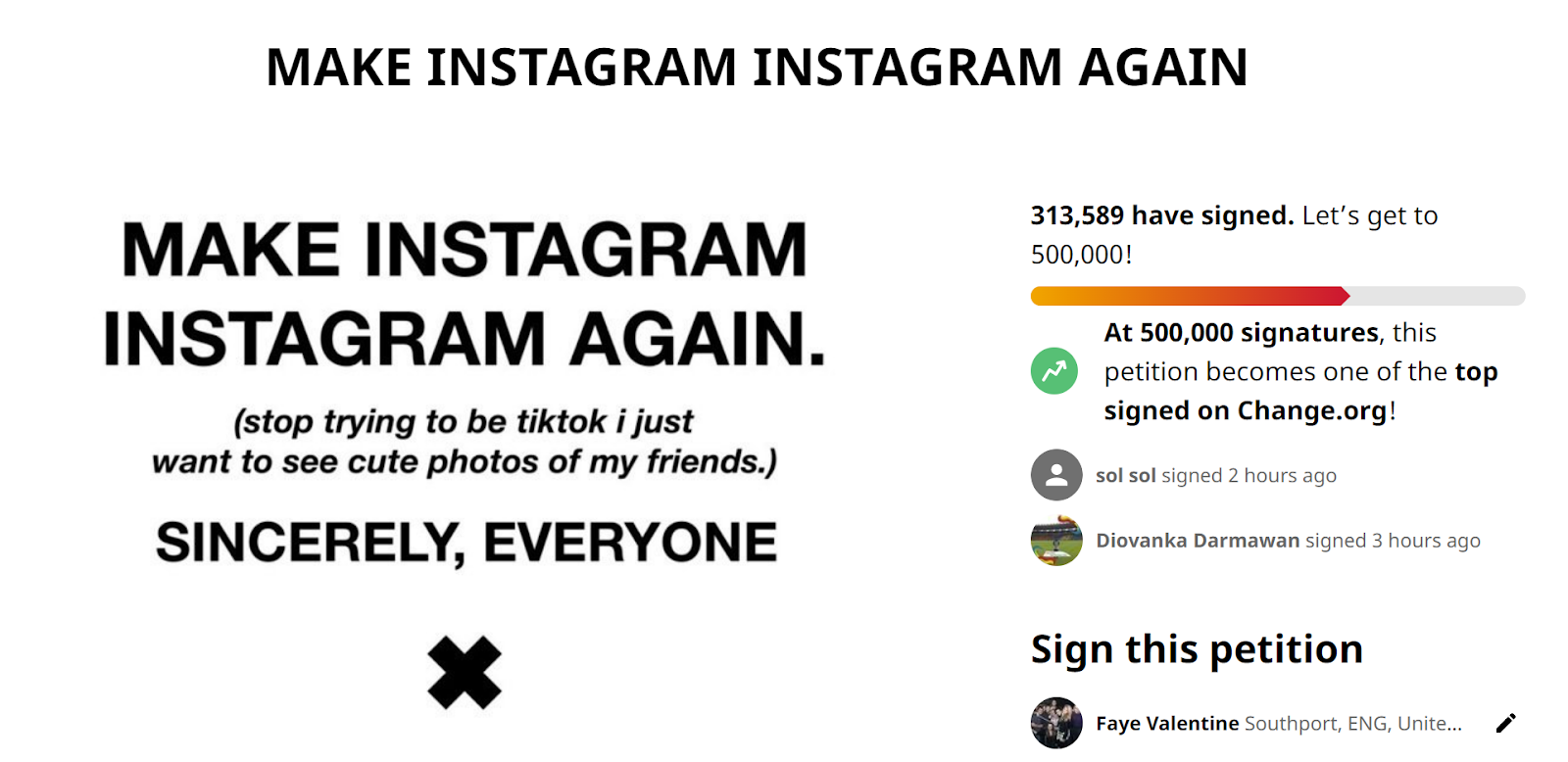 Oops. We made a mistake
In August this year, Mosseri took to his Instagram Stories to answer questions about the algorithm changes from concerned Instagram users. He acknowledged the backlash and even admitted that the company had leaned too far into video within the app, which may have pushed even more users away than originally.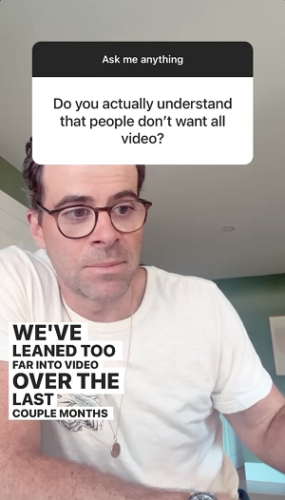 He went on to explain that Instagram would be reversing some of the changes they made to the app following the backlash they received.
However, this isn't the end of the uprising of Instagram Reels. In fact, it's just the beginning. Although Instagram will be taking a step back and re-grouping, they will be continuing to ramp-up the Instagram Reel recommendations slowly, giving users a chance to adapt to this.
A good move on Instagram's part, in my opinion. 
What does this mean for Social Media Managers & businesses? 
The hard answer? We need to adapt with the times. Social media is an ever-changing, fast paced business, and if you want to succeed in it, you have to innovate. It's time to brush up on those video skills and research those trends, because video is going nowhere. 
How are Pixel Kicks tackling the algorithm changes?
We're no stranger to keeping up with the world of digital, so our social media team have been hard at work refreshing and adapting our current strategies to accommodate the ever changing algorithms.
We're all taking the time to train and advance our video skills so we can continue to create high-quality content with a results-driven approach. 
But personally? I'll have a little moan over on my LinkedIn, but I am excited. Excited for new, fresh content that we can get creative with. If I was to enjoy doing the same thing everyday, I'd be in the wrong job. Bring it on. 
Confused and overwhelmed with social media? Click here and we can help lift the load.