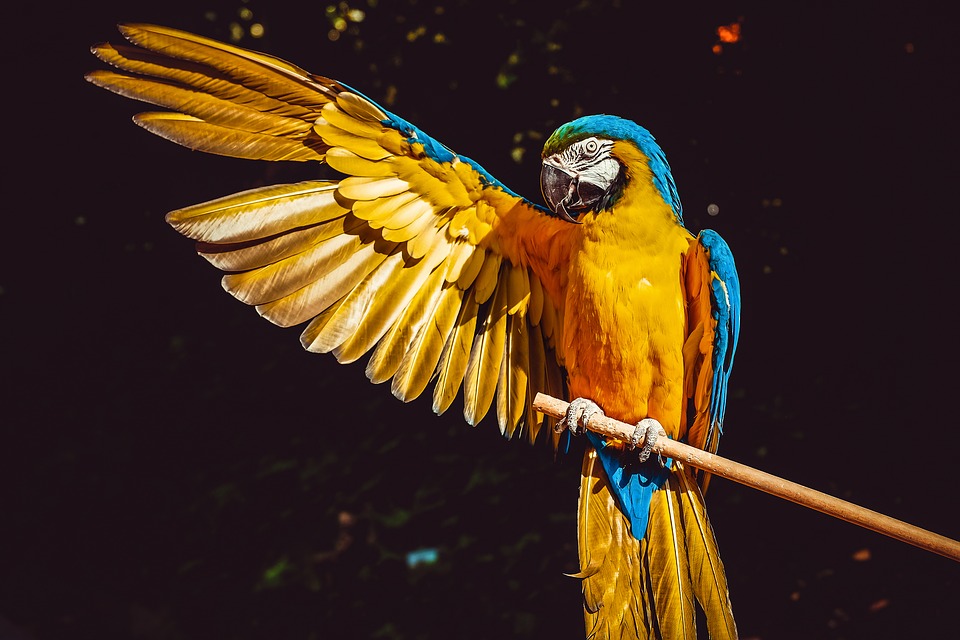 How to make the most of your Google Ads budget?
Google Ads is one of the most effective advertising platforms for businesses of any size. The flexibility of bidding allows a user to allocate a budget as big or little as they want, and change it at any time.
You don't have to spend hundreds or thousands in order to generate leads and see a great ROI, as a well structured campaign is really the key to successful advertising.
The truth is, whatever you're doing on Google Ads at the minute, there's always something that you can do better. 
Many advertisers don't utilise the great (and free!) features of Google Ads that can add something a little extra to boost their campaigns, so we've put together a list of the best Google Ads features that you should be using.
Ad extensions
If you're running a Google search campaign, you should use as many relevant ad extensions as you can – they don't increase your advertising costs, but do ensure you get more from your money.
Ad extensions add more information to your adverts in numerous forms, and ensure your ad has a higher visibility, standing out over lesser-optimised competitors.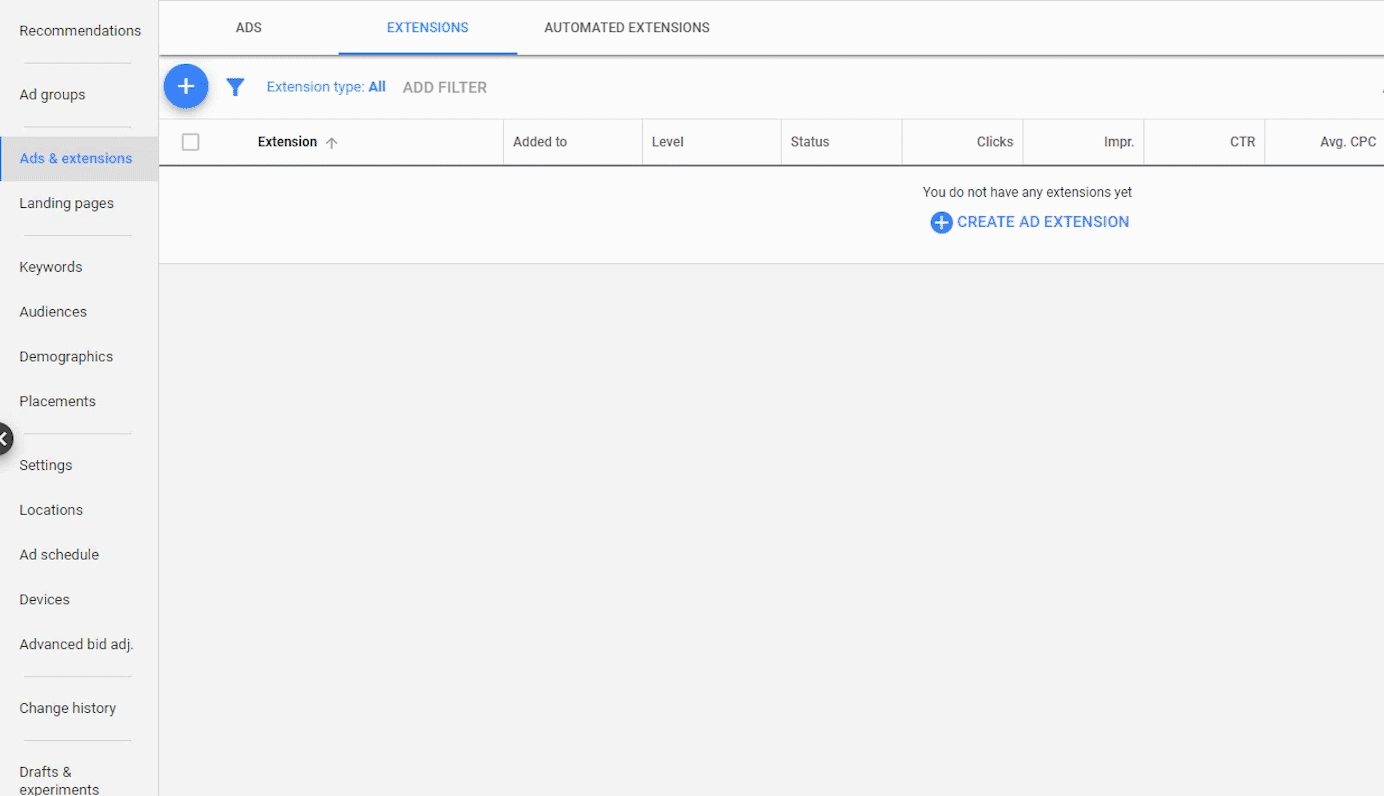 Extensions come in various forms, with some of the common, most useful ones listed below:
Call Extension:

This allows you to add a phone number to your advert, which is clickable by mobile users to instantly call your business. These calls are trackable by Google Ads, allowing you to see how many leads are returning on your advertising investment.
Sitelink Extension:

Your search ad will typically link to one chosen landing page, but this feature allows you to add a selection of related links beneath it, giving users extra opportunity to click through to your website.
Callout Extension:

A callout extension allows you to add additional marketing text and information underneath your advert's main description. Each callout can have a maximum of 25 characters, so keep it short but sweet.
Structured Snippets:

This enables you to add a list to your advert, with a heading from a predetermined shortlist (eg. "Courses", "Styles", "Brands").
Location Extension:

A great option for those with a physical location who want to increase footfall. This adds your address to the advert, allowing users to click through and get directions from Google Maps.
Adding extensions to your ads ensures a higher click through rate, and helps to increase your quality score in turn pushing you up the results page with no additional cost.
Recommendations tab
Google Ads campaigns can often be very complicated to manage, especially when working with a large number of keywords and ad groups.
You're not on your own though, as Google does try to offer you a helping hand with suggestions and tips on actions you can take to improve your campaign performance.
On the left column of options in your Google Ads management view, you'll find a tab titled "Recommendations". On here, Google identifies any problems with your account that could be causing a drop in performance.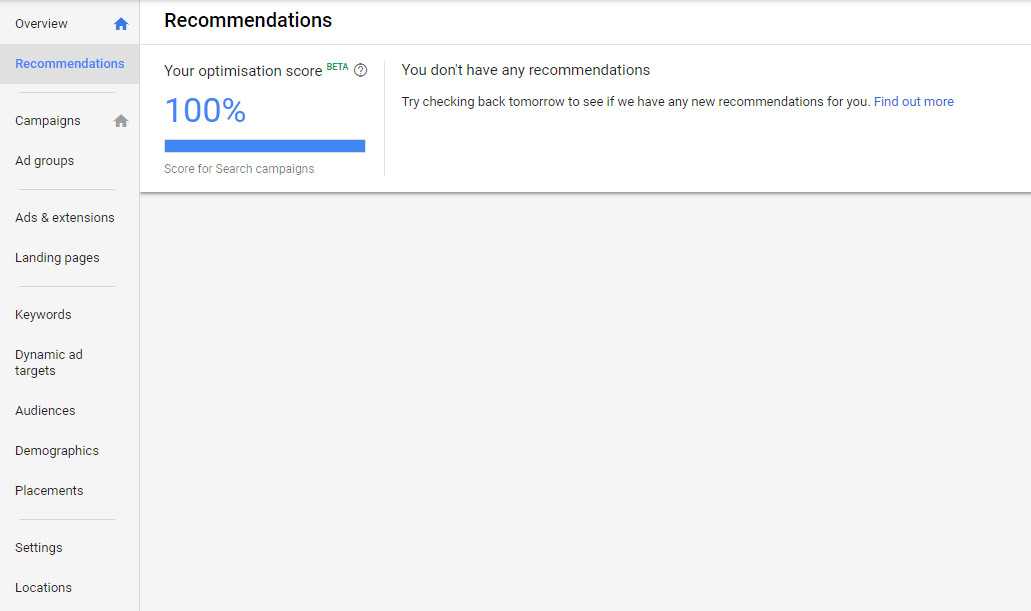 Suggestions include, but aren't limited to:
Adding new keywords to an ad group, some of which will be suggested by Google

Adding extensions to your adverts (See above)

Using new ad types, such as responsive search ads

Removing conflicting negative keywords, where your settings are blocking adverts from appearing in searches for the terms you bid on.

Changes to your bids, including ways of reducing your CPC but increasing click throughs.
These recommendations are included alongside an optimisation score, which will increase to 100% as you work through the suggestions made by Google.
Keyword Planner
A strong set of keywords lays the foundations for any successful Google Ads campaign. This is essentially one of the first and most important steps that should be taken before considering ad text, budget or anything else.
Conducting thorough keyword research can be very time-consuming, but Google's Keyword Planner (formerly known as Keyword Tool) is a free feature within Google Ads that can help with finding new keyword ideas and projecting search volume, forecasts and suggested budgets.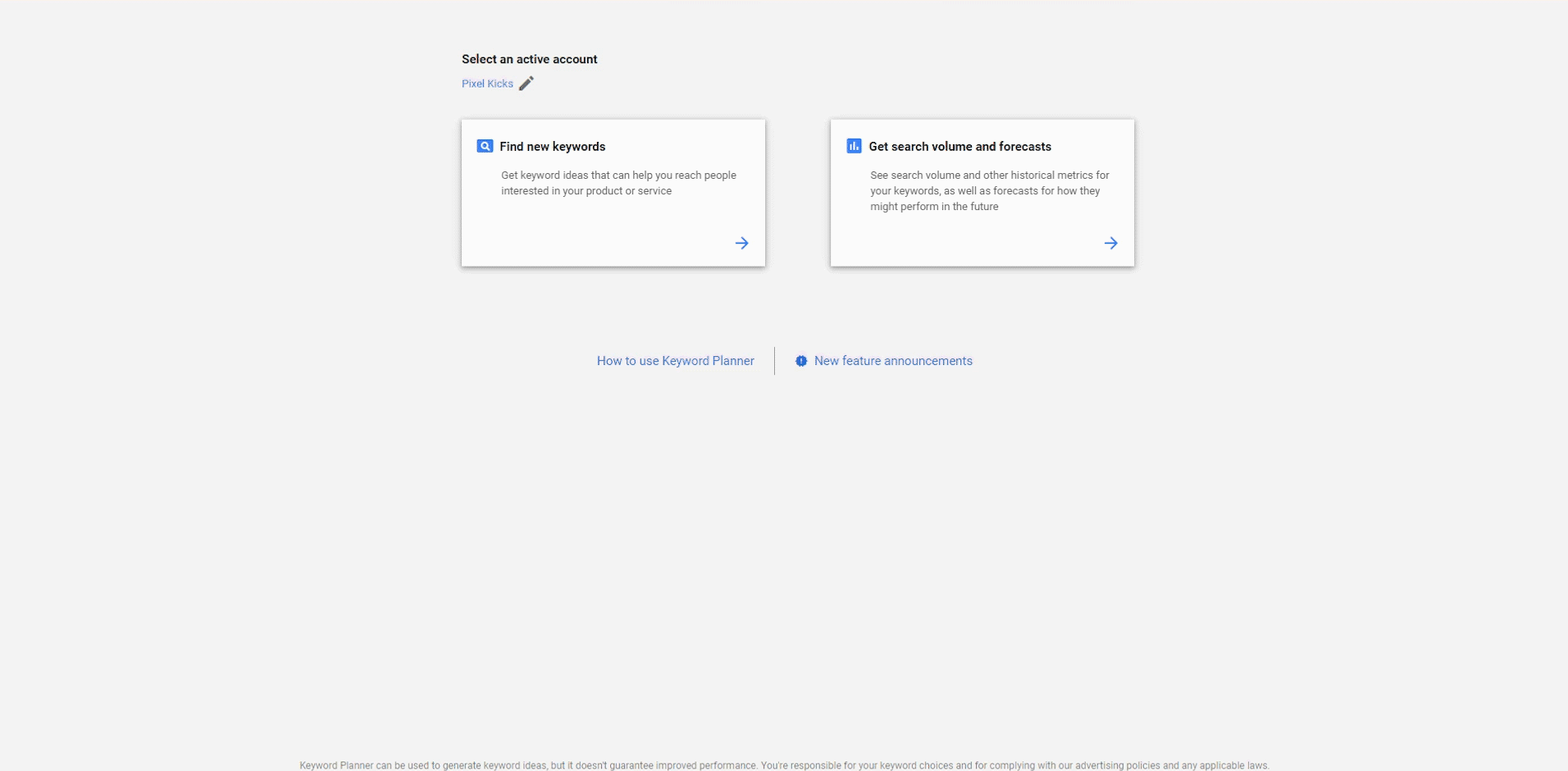 With the sheer volume of powerful data that Google has access to, it would be a missed opportunity not to take advantage of this free tool, whether you're a Google Ads beginner or a more advanced user.
Key features of Google's Keyword Planner:
The option to enter up to

10 seed keywords

to generate new ideas

View

keyword trends

for individual keyword ideas

View

grouped ideas

which sorts keywords by theme to create tailored ad groups

Easily add a new keyword idea to an

existing campaign

Suggested

daily budget

for campaigns based on the max. CPC bid and forecasted cost

Competition ranking

stats across all keyword ideas
To get the most out of Google's Keyword Planner, we recommend carefully coming up with a list of words that best describe the products or services your company is offering, and then entering them into the tool. This way, you're making sure that the suggested keywords and new ideas will be as relevant as possible to your business in order to utilise your budget in the best possible way.
Once you've created your list, Google essentially does the rest of the work for you. You will be presented with new keyword suggestions, search volume and forecasts, bid suggestions and competition for each keyword. With so many more helpful features and information, you can drill down right into a breakdown of devices and locations to help create your targeted campaign.
In short, using Google Keyword Planner can not only open your eyes to new search terms relevant to your business, but can help to simplify the process of creating a successful PPC campaign. It's definitely worth exploring all of its features to find what's useful to you for building your campaign.
Build a negative keyword list
We all understand that to succeed on the Google Ads platform we need to follow the process of highlighting profitable keywords, filtering them into respective ad groups, and setting up relevant landing pages for each one.
It's a tried and tested process that drives good quality traffic to your site, sure, but there's an additional step to this method that is often neglected at great cost to both the piggy bank and the campaign overall.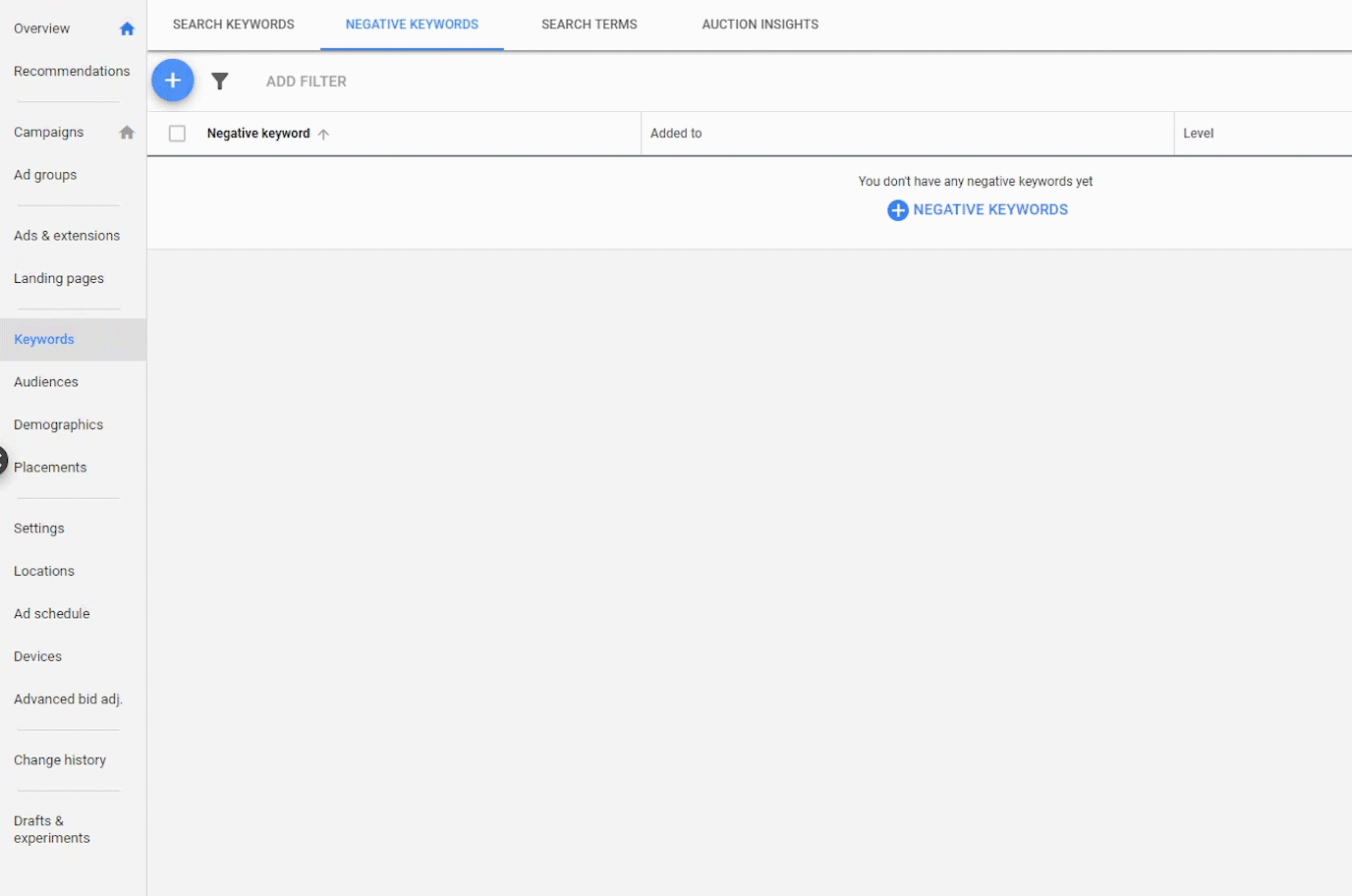 Negative keywords are defined by Google as:
[quote] "A type of keyword that prevents your ad from being triggered by a certain word or phrase. Your ads aren't shown to anyone who is searching for that phrase. This is also known as a negative match."
What this means is you can add specific words or phrases to a campaign or ad group, and this will tell Google Ads specifically not to show your ad for any searches that contain that word or phrase. It is a clear and easy way to prevent your ads from showing to people who search for related, but ultimately irrelevant words or phrases (and ultimately save you a load of money.)
Yes, this is what I wanted. ?? pic.twitter.com/vHdFxcej07

— Brittany (@BrittanyZerr) June 1, 2019
Cost-effective keyword management is essentially a three part process. The first consists of using the keyword planner, as outlined above, to broaden the relevant keywords you are bidding on while the second is constant maintenance of that list to manage your bids. The third is building a negative keyword list to further enhance ROI.
By heading to Keywords > Search Terms you will be able to browse a definitive list of every search term that has triggered your ads. This is an informative place to start when you look to build a negative keyword list, as you will see first hand where money can be saved.
Negative keyword match types
Negative broad match:

the default for negative keywords. Your ad won't show if a search contains all of the negative keyword terms, no matter their order in the search term. Your ad may still show if the search term contains only some of your keyword terms.

For example, a negative broad match keyword of snow shoes would negate any searches for 'snow shoes' or 'shoes snow', but your ads may still run for searches like 'red dancing shoes' or 'snow equipment.'
Negative phrase match

: your ad won't show if a search contains the exact negative keyword terms in the exact order submitted. As long as the negative keyword is searched for in the correct order, it will not show.

For example, a negative phrase match keyword of snow shoes would negate any searches for 'cheap snow shoes' or 'snow shoes near me', your ads may still run for searches like 'red dancing shoes.'
Negative exact match:

your ad won't show if the search contains the exact negative keyword term. It may still show if the search contains the term, plus additional words.

For example, a negative exact match of snow shoes would negate any searches for 'snow shoes' only.
Adding negative keywords will improve your click-through rate and help you to work on driving more traffic with a higher commercial intent through your ad groups.Ultimately, this will save you money by raising your conversion rate over time.
Shopping Campaigns
If you want to be smart with your budget, Google Shopping is an essential advertising platform for online retailers. It provides an unrivalled, cost-effective way of putting products in front of potential customers who have the intention of making a purchase.
These product listing ads are featured across Google's Search and Shopping results, and are typically displayed at the top of the search engine results page usually before organic listings. The way that these differ from Search ads is that they are accompanied by photos of the product so aren't limited by ad text, and can include additional information such as prices, reviews and special promotions to boost engagement.
According to Google, many businesses report "significantly higher click-through rates (CTR) with Shopping ads compared to text ads." It's easy to see why, as visually, they are more eye-catching and prominent on search results pages, and the user can identify straight away the product they are looking to purchase.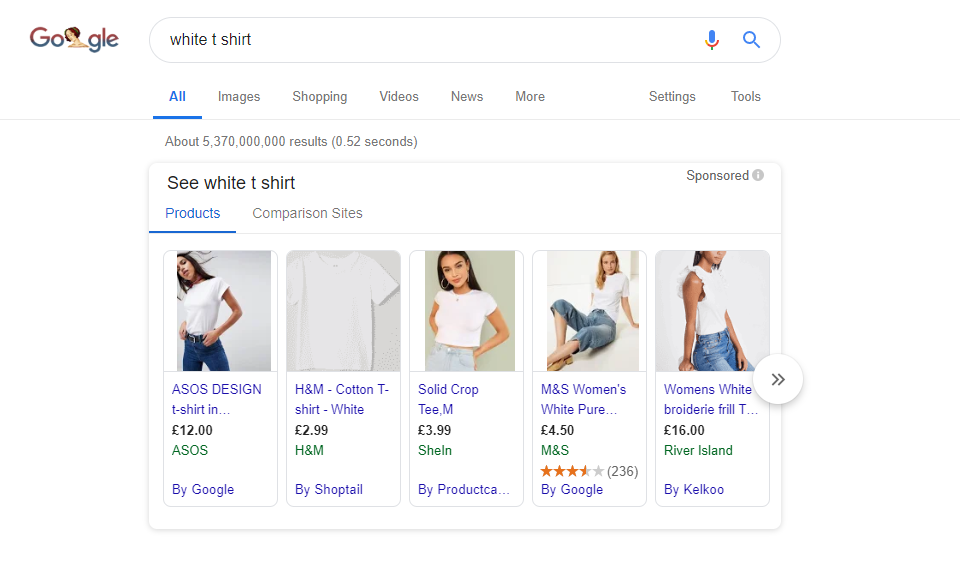 Unlike Search campaigns, Shopping Ads don't require a list of keywords, so it's important to optimise your product titles and descriptions to include keywords and match search terms in order for the product to show for relevant searches.
Bidding works in a completely different way on Shopping campaigns compared to Search ads, as you're not bidding on keywords but you can instead set bids at product level. With the ability to set bids per product or product group you are getting a lot more control over your campaign as you can set individual bids based on profit margins, competition and other relatable factors.
In summary, Google Shopping Ads is a powerful tool for any ecommerce business looking to boost their conversions and visibility on search engine result pages with a cost-effective advertising campaign.
Performance Planner
Earlier on, we talked about Keyword Planner, a hugely useful tool that can help you choose new keywords to include in your campaign, and recommend bid amounts.
Performance Planner is a new, similar tool, only released to the public in May 2019, and offering a broader look at your campaigns and their performance forecasts.
Primarily, this new planner is a great way of determining how you should spread your budget over multiple campaigns, with the tool also helping you optimise your settings to increase conversions.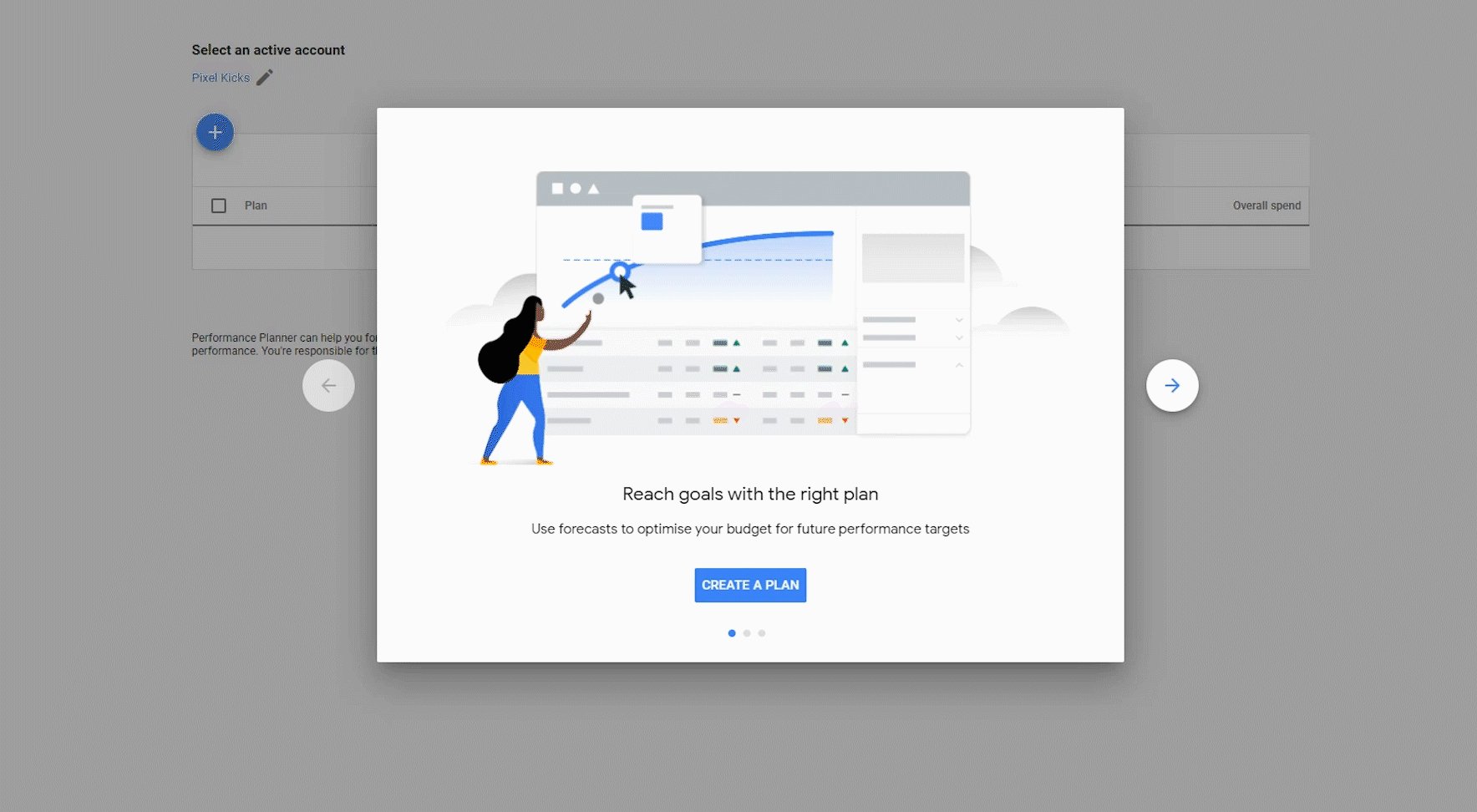 It's a good way of testing changes before you implement them, with the planner able to forecast results based on changes to spend, bid settings and more.
Announcing the new Performance Planner back in May, one of Google Ads' product managers said:
"On average, we have seen that advertisers can drive 43% more conversions by using Performance Planner to better plan their Google Ads spend.
The Performance Planner identifies the best spend amounts for your campaigns to drive incremental conversions."
Create an ad schedule
An ad schedule can be used to display ads, or change bids based on different times of the day.
Once signed into your Google Ads account, open up the Campaign you want to set up an ad schedule for and then head to Settings. Ad Schedule can be found there, but will only be an option for campaigns with 'All Features' enabled. From here, you can tell Google when to run or pause your campaigns, or adjust bids at specific times.
In simple terms, your ads won't run outside of your specified range. Ad Schedules operate on a weekly basis and you can go deeper by specifying multiple schedules per day. For example, you could specify that on Tuesdays your campaign runs from 06:00AM-10:00 AM and 18:00-22:00 PM.
Creating a schedule for bid adjustments allows you to keep your ads running, but adjust the CPC at different time intervals. Upon reviewing your ad performance you may observe that your average cost per conversion is £50 throughout the working week but £72 at the weekend. Here is an opportunity to schedule a bid adjustment accordingly.
Using this tool will help you to utilise your Google Ads budget by working with, rather than against your supply and demand differentials. By scheduling your ads to be more prominent at times that suit your business, you will be placing more budget behind the moments that makes commercial sense.
Remarketing lists
Using Google Ads isn't all about finding a new audience to click through to your website. You should also spend some time and money ensuring that those who have clicked away from your site return to make a purchase or enquiry.
Google Ads allows you to create a list of users, compiled as they visit a certain specified page or website. The settings of this list can be amended, meaning you can choose how long they remain on the list, and from how long ago they met the criteria to be included now.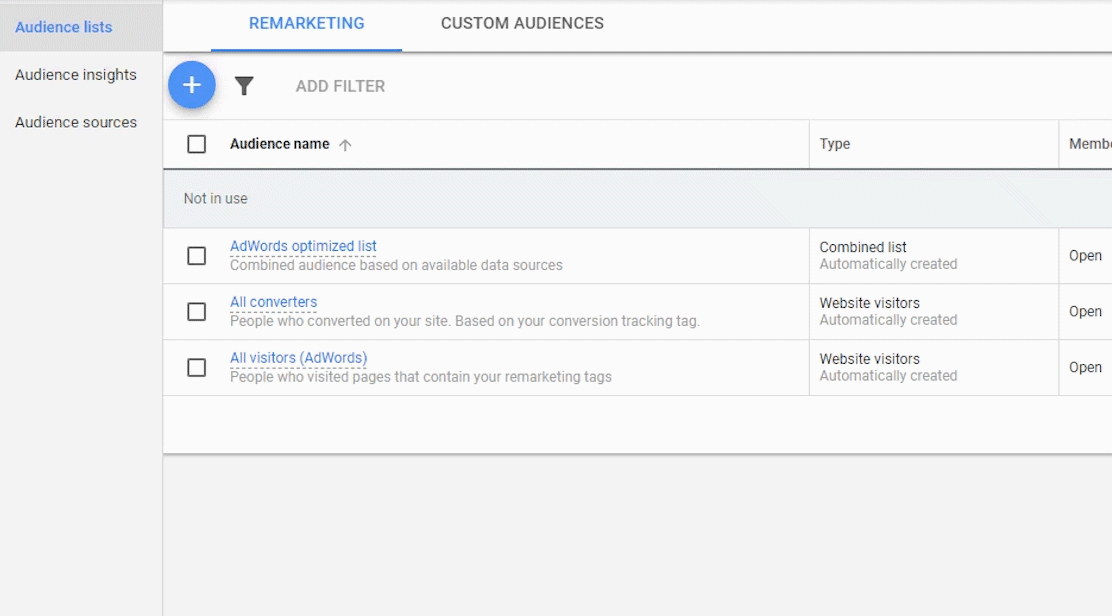 Remarketing is a great way of increasing conversions on your website, and it's something we see targeted to ourselves during almost every browsing session. For example, if you search for "golf clubs" on Amazon and then go to another website, it's no coincidence that you later see adverts for golf clubs everywhere.
It's really easy to organise, and is a great way of effectively utilising your budget. Setting up a Google Display campaign is the best way of remarketing, showing banner ads for your website to those who fit your list criteria.
You can either produce the banner ads yourself, uploading them to Google Ads in various accepted dimensions, or create an automatic responsive display ad instead – this new tool lets you upload a logo, any images, and write various text options, while Google automatically combines it all together to create ads that fit all sizes of advertising space.
Need more help with your Google Ads campaign, or want a knowledgeable, experienced team to assist you with running and managing it? Get in touch with Pixel Kicks now for a chat about your marketing needs.