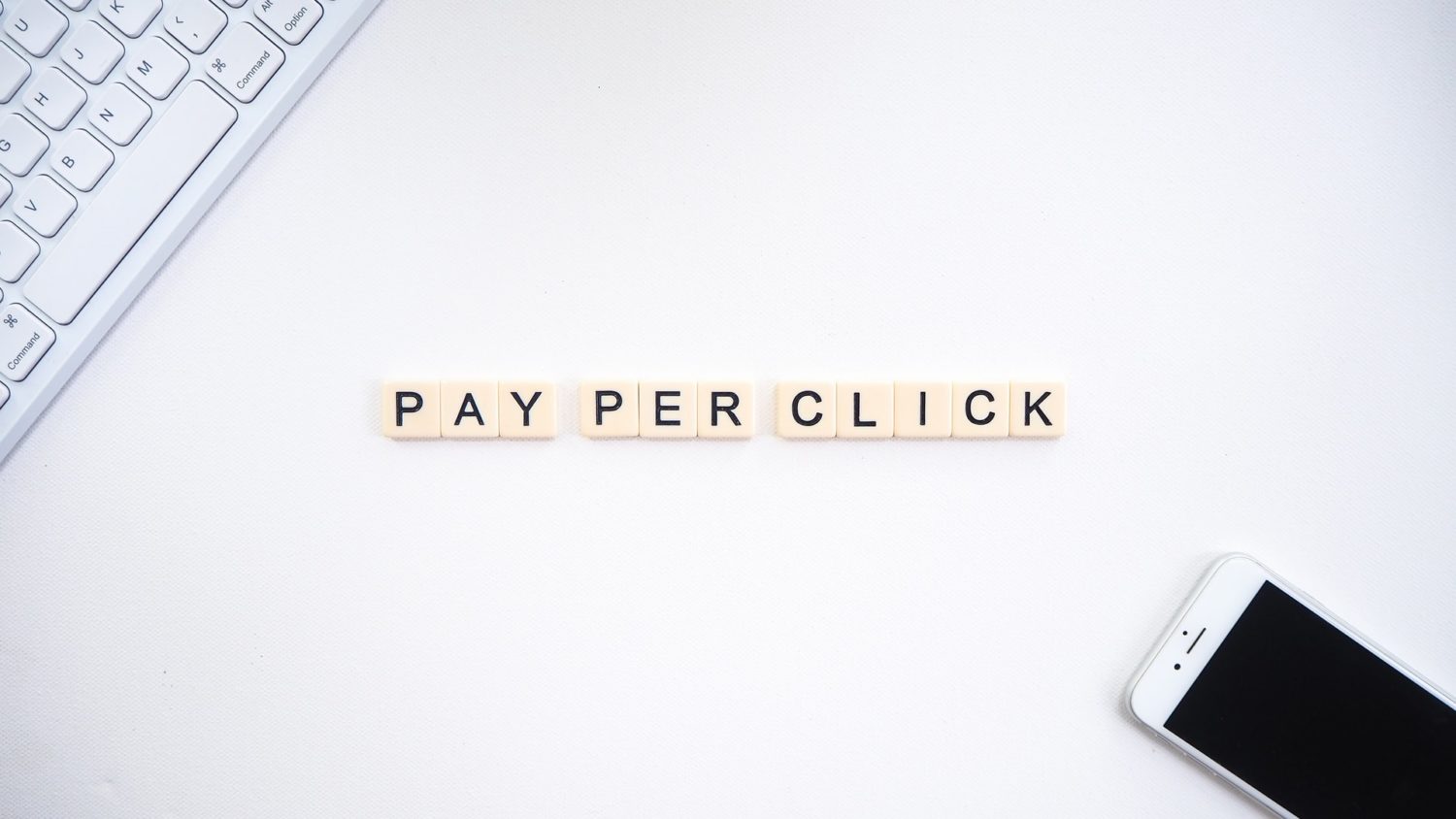 For many businesses, Google Ads can be one of the most effective advertising platforms they'll ever use. If utilised to its full potential, that is.
Advertising on Google is all about reaching new customers, driving sales and ultimately generating a high ROI. It's undoubtedly the most widely used online advertising platform, and any business serious about reaching their goals would explore it as an option.
While advertising your business online can seem a little daunting, it doesn't have to be. With correct preparation and planning, followed by frequent analysis and optimisation, Google Ads can be a success for just about any business. It's well worth the time and effort dedicated.
Luckily, you don't have to go it alone. There are a number of different tools, websites and features of Google Ads that are there to help you on your way to advertising success.
Read on for our top PPC tools to use for optimising your Google Ads campaigns.
Google Ads
Before we head straight into talking about any third-party tools, it only makes sense to start with the useful features that Google itself provides, right from within the Google Ads interface.
If you're running a Google Ads campaign, there are four key tools within your account which are definitely worth checking out, and best of all – they're 100% free to use.
1. Keyword Planner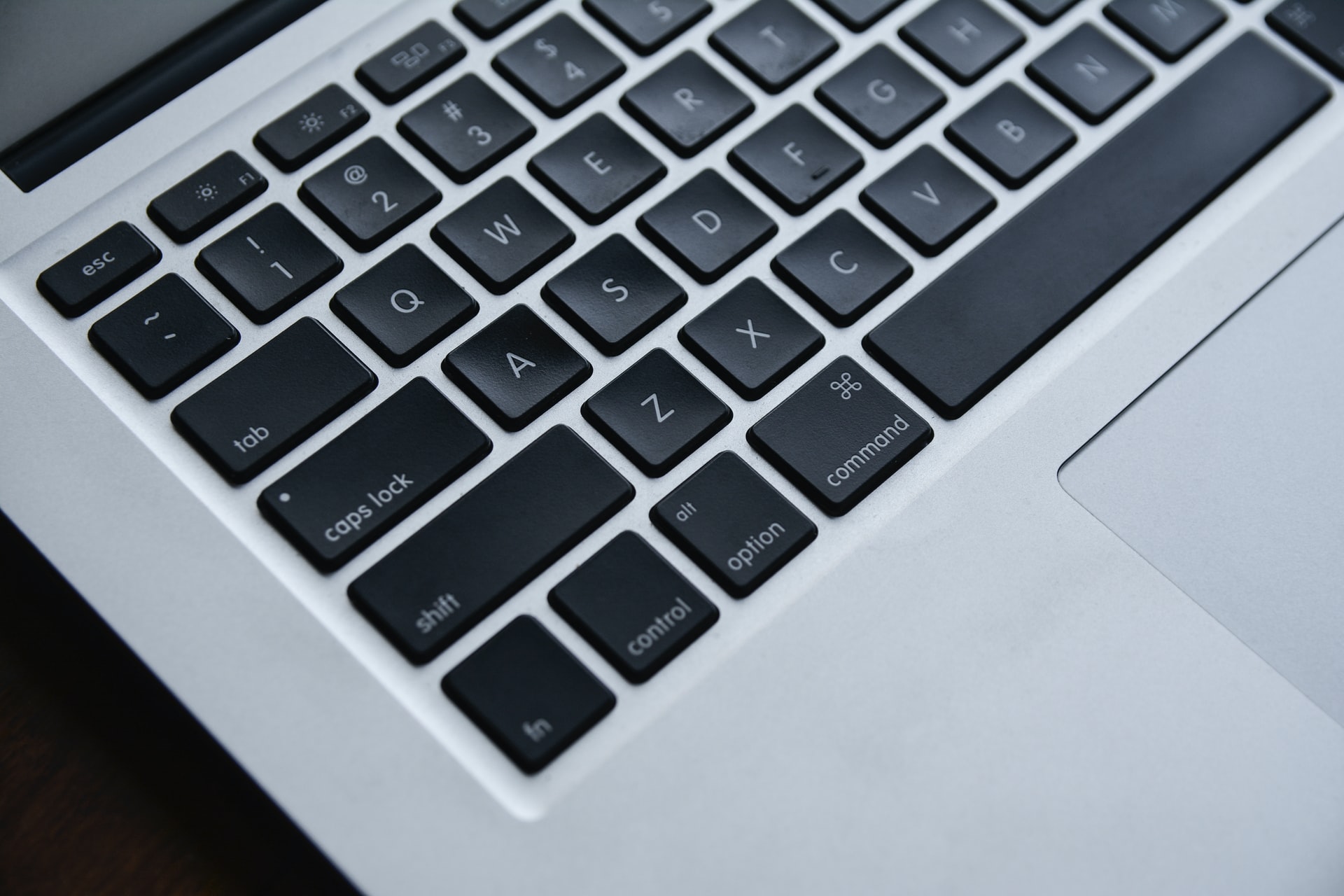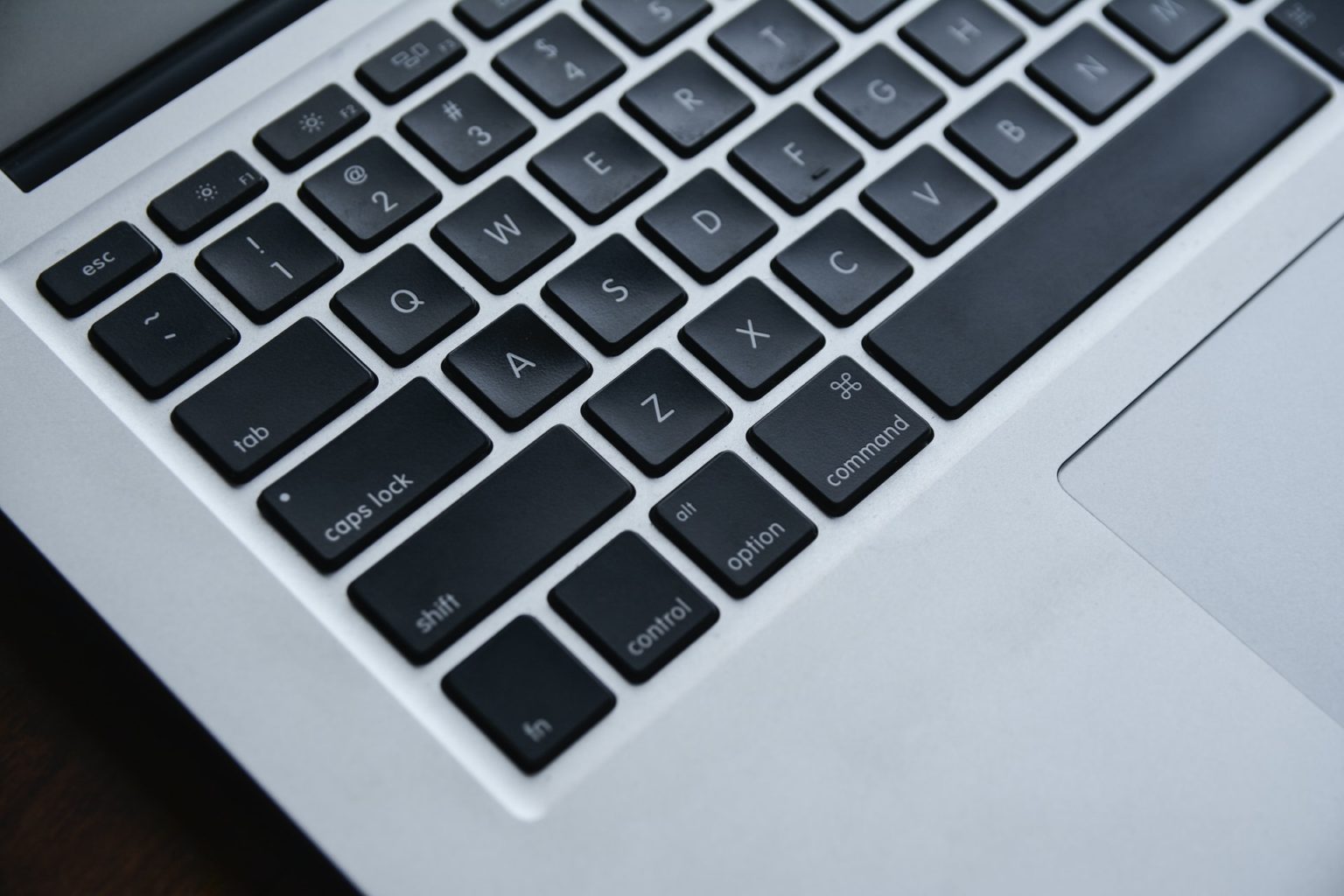 If you want to run a standard Google Search campaign, you won't get very far without having a list of keywords that you want to target. Keywords are what drive traffic from Google to your website, so it's crucial that you get this part right.
The keywords you add to your campaign should not only be relevant to your offering, but also have a chance of actually being searched for by users. With this, comes a lot of keyword planning. It's important that we know what people are searching for on Google, and which of these will generate the most success for your campaign.
Fortunately, the Google Keyword Planner takes a lot of the leg work out of the keyword research process, and is one of the most powerful tools provided in Google Ads. 
Let's have a look at the two main features of this planning tool:
Discover new keywords
One of the biggest mistakes that advertisers make when setting up PPC campaigns, is thinking that they have all of their keywords already set in stone. While it's good to have a starting point with the searches you want to appear for, by not exploring other options you could be missing out on some big wins.
There's a chance that there are some huge money-making search terms that never crossed your mind, but Google's Keyword Planner will be happy to point you in the right direction here. By simply inputting a term relevant to your business, or a landing page URL on your website, Google can reveal all sorts of data that could benefit your campaign.
The tool can generate hundreds of new keyword suggestions, along with details into how competitive that particular search term is, and how much you'd be looking to spend per click. 
Get search volume and forecasts
Once you've got a list of keywords, the next step is to find out the key metrics of those search terms, i.e. how you can expect them to perform in your campaign.
By adding your keywords into this section on the planner, you'll see a detailed overview of how many clicks and impressions you should expect from each keyword over the next 30 days, along with estimated CTR, CPC and overall cost.
It's also worth checking out the Historical Metrics section here, which offers insight into how competitive each keyword was over the past 12 months, and the average bid that was being paid by advertisers.
As the biggest and most powerful online advertising platform, it's safe to say that Google has access to an unimaginable amount of data that other tools don't. So, you won't go far wrong with looking into what Google's Keyword Planner has to say, and using its suggestions to boost your chances of success.
2. Performance Planner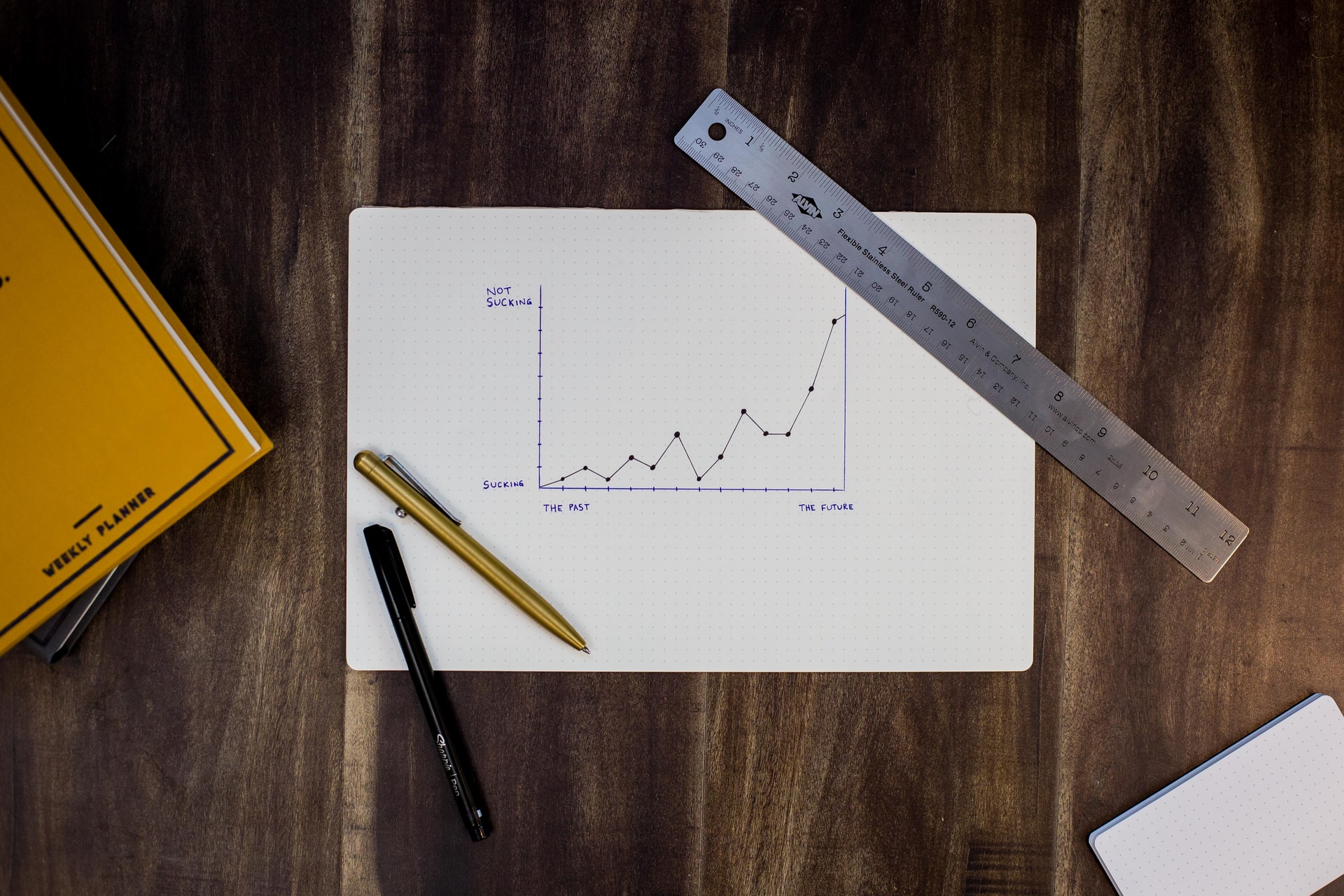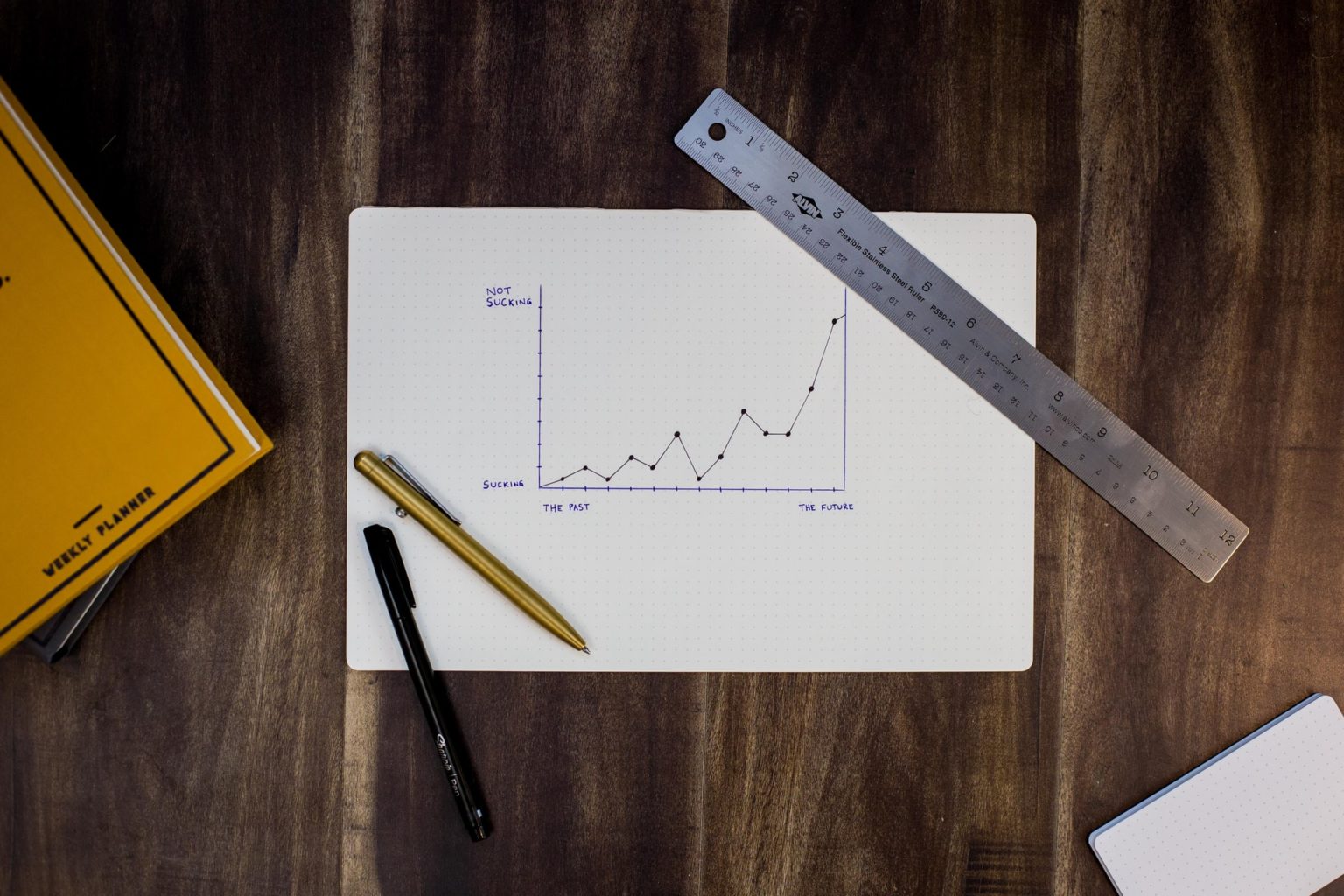 While it can be tempting to set up your PPC campaigns and simply let them run their course, in order to drive real results, it's important to keep up with the optimisation and ensure you're doing everything you can to drive conversions and make the most of your budget.
Fortunately, Google's Performance Planner is an incredibly helpful tool that not only gives insight into your campaigns' projected monthly and quarterly performance, but can also give recommendations on how to improve them.
In order to use Google's Performance Planner, your campaigns must:
Have been active and running for 72 hours minimum

Have generated at least 3 clicks in the past week, and at least one conversion if this is the goal

Be search campaigns that operate on CPC, enhanced CPC, max clicks, max conversions, ROAS or CPA bidding strategies
If your campaigns fit this criteria, you will be eligible to access Google's forecasts for your campaigns. The information shown to you within Performance Planner is updated every 24 hours, and relies on billions of search queries to provide you with:
Forecasts

– see your expected conversions, CPA and spend
Outcomes

– by adjusting campaign settings, you will be able to see how these changes will affect your campaign
Seasonal opportunities

– insights into how seasonal lows and highs will affect your campaign in the future

Budget management

– you can find out the ideal budget across your campaigns and accounts, and Google will recommend how to best place this budget based on the forecasts
With the help of Google Performance Planner, it's now easier than ever for advertisers to analyse performance targets, conversion goals and spend levels in order to drive success with a well executed plan. In addition to the helpful forecasting tools, any changes recommended in the planner can be implemented on your account straight away via Google Ads Editor. 
3. Reach Planner

The Google Ads Reach Planner is one of the most important tools for those running video ads on Youtube or any other video platform affiliated with Google's display network. In short, it allows the user to accurately predict the outcome of any particular ad format and in turn makes fine tuning an ad for your audience ever easier.
The first step in using the Reach Planner is setting your audience, and this is made up of several categories:
Location –

Choose who to show your adverts to by their location. This can be set either by geographical location (accurate down to the city) or by currency depending on who your ads are aimed at.
Demographics –

If age and gender is relevant to defining your audience then input them into the demographics field. For those whose ads are directed to an audience regardless of these details then simply select "all people". It is also worth noting that Google's Reach Planner takes no account of the under 18's age group as it does not support the targeting of minors.
Google Audiences –

Any user of Google Ads will be familiar with their audience groups by now, and the Reach Planner is no different. You will be able to target audiences based on whether they are affinity, custom affinity, custom intent, in-market and life events.

Dates –

The amount of time your campaign runs for will have a great impact on its reach, and so it's important to experiment with different time periods to find the optimum length.
Once you have set your audience, it's time to choose which ads you actually want to test, and Reach Planner allows you to do that. Under the Ad preferences tab you choose either:
Select your own product mix –

This method allows you to choose each individual ad format and assign it a budget. This option is great for the more experienced users, or those who have a very specific campaign in mind.

Get help finding the right product mix –

This option allows Reach Planner to recommend ad formats for you based on your audiences, the assigned budget, the content length available and your preferred content placement.
With all of these in place click view forecast to see your results. This will give you a media plan outlining the reach, demographics and devices metrics that you would expect to receive from this campaign. 
Reach –

The reach curve shows how the expected reach of the campaign, compared with the budget required to achieve it.
Demographics –

This metric breaks down the audience into age and gender groups, and shows you how much of the reach they each represent within the media plan.

Devices –

This chart in the media plan breaks down the expected impressions by device including desktop, mobile, tablet and connected TVs
There are also some modifiers that you can apply to the results, to further define your future campaign:
On-target reach –

This value can be adjusted to show the reach to audience members who have seen your advert more than once by setting the range from 1+ to 10+.
CPM –

You can choose between viewing the total CPM, which is the cost per thousand impressions from across your entire campaign, and on-target CPM, which is the cost per thousand impressions within your target audience.

Population –

You can also modify the predicted reach by census, digital, TV or YouTube population.
Taking this information on board will give you a much better idea of how your campaign will perform, and making edits to the ad's format will allow you to fine tune the results and create impressive campaigns without wasting a penny.
4. Ad Preview & Diagnosis
The ad preview and diagnosis tool is a small and often forgotten piece of software available for PPC marketers to effectively tune their ads appearance, and even find out why some ads may not be displaying on some keywords.
The real advantage of the tool is that it displays an accurate preview of any given search term, without racking up costly or misleading impressions for your or your competitors. It also allows you to judge if your ad is eligible to be displayed under certain criteria, like language and location.
Not only does the preview tool show you if an ad is displayed, it also shows you which extensions are being used for which keyword, highlighting which are the most effective. If you notice that certain extensions are never appearing then the diagnosis portion of the tool will be able to tell you why it has been excluded.

Keyword Wrapper & Permutation Tool
Putting together a keyword list can often be a tedious job, particularly when dealing with a large volume of search terms. The free Keyword Wrapper & Permutation Tool Chrome extension provided by Clickboost is one way of helping to reduce the time spent on this, helping you to work more efficiently.
One way this works is by modifying your keyword list to fit across the different keyword match types. When putting together a Google Search Campaign, you can set your keywords up to only be triggered by certain search query types, with the following settings available:

Broad match:

Here, your keywords can be entered unmodified – this means each of the words in each keyword phrase will be used, and matched against any similar term. This can sometimes lead to inaccurate matches and can be a source of budget wastage.
Broad match modifier:

This is the same as broad match, but you can add a '+' in front of any word in your keyword phrase that must be included in search terms to qualify them to show your ad.
Phrase match:

With phrase match, you can place your keywords in quote marks to signal that you need the exact phrase to be included in any qualifying searches. For example, if you selected "men's shoes" as a phrase match keyword, your ads would show searches for "buy men's shoes", but not "buy shoes". 

Exact match:

By putting your keywords in square brackets, you can ensure that your ads show only for searches of that keyword exactly, with no additions or variations. For example, if you choose to bid on [men's shoes], your ads will show on searches for "men's shoes" only, with "buy men's shoes" no longer eligible.
The Clickboost tool makes it easy to set your keyword list up with multiple match types – simply enter your keywords, select the match types required, and then click generate.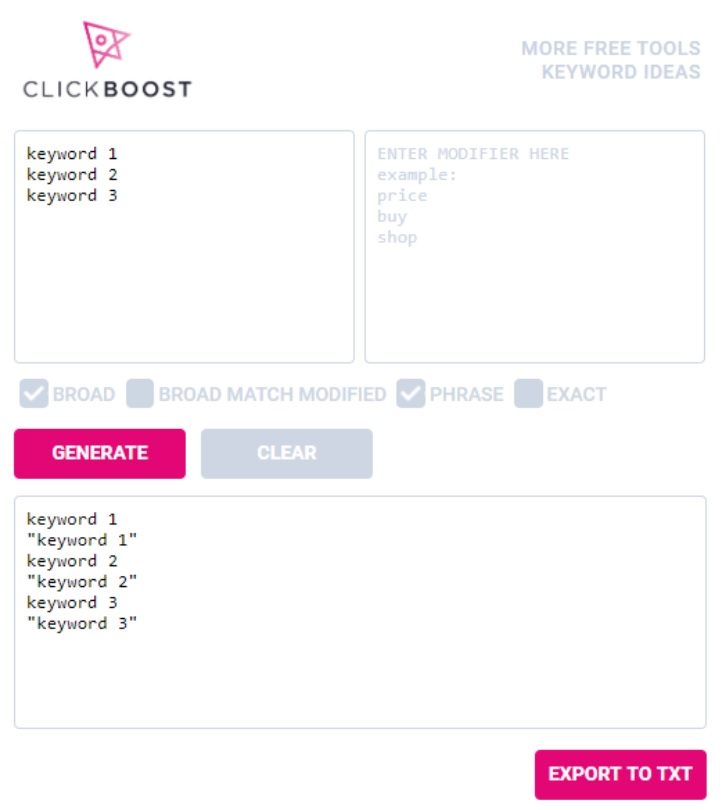 The tool can also help to create permutations of your keywords. A good example of this is if you have a large list of keywords that you want to target to people in multiple locations. If you wanted to bid on keywords such as "car showroom Manchester" and "car showroom Leicester", you could automate the mixing of your search terms with locations using the permutation tool.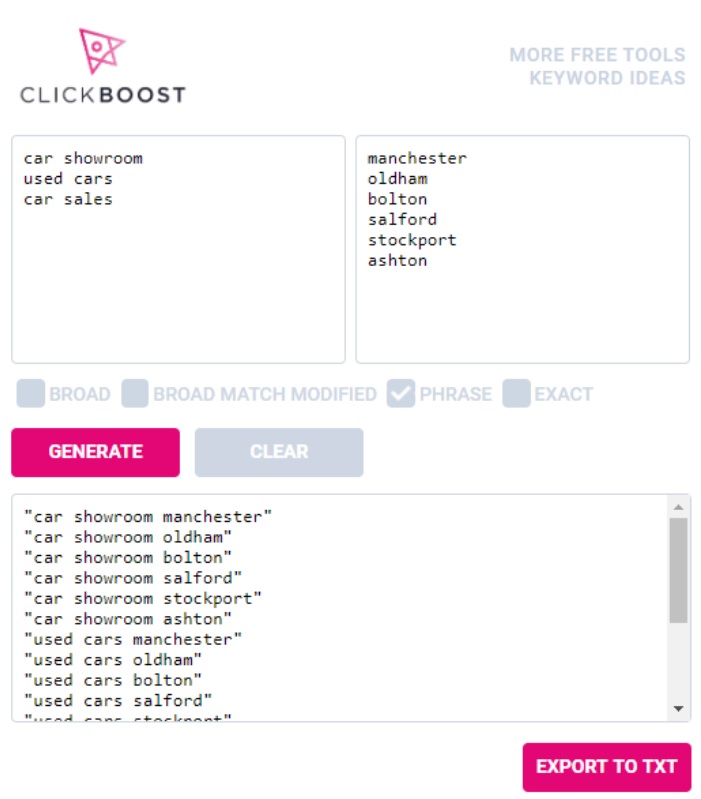 SEMrush PPC Toolkit
SEMRush PPC Toolkit is an excellent way to improve your Google Ads campaigns, with many features available to help optimise your ads. The main tools available on SEMRush are: Marketing analysis, keyword research, ad tracking and social media ads.
The marketing analysis tool provides you with data on your main paid search competitors, allowing you to see the keywords they currently bid on, while the keyword research tools enable you to find gaps in your targeting, and create a full list of keywords from a single seed keyword.
Ad tracking allows you to keep track of your advertising success, with regular updates regarding your search result positions and visibility. Finally, the social media ads tool can be used to create and manage your ad campaigns for every funnel stage, also helping you to identify your lowest performing ads and optimise them to get back on track.
Search volume is the average number of searches that you can expect a specific keyword to receive over a defined time period. Unless you're running live ads Google will hide its search volume data in the Keyword Planner, so SearchVolume.io can come in really handy in that case. 
It also helps to focus on the data that matters, rather than wading through the additional data that the Keyword Planner would give you.
It's quick and easy to use. You simply input your list of keywords into a text field, select your location and press Submit. In seconds you're given a list of monthly search volume statistics for your keywords, and this data can be exported into a crystal clear Excel document.
Why do we need to know about Search Volume?
Search volume is a key component within your PPC strategy. High-volume search terms are generally more competitive to bid on than their less searched for counterparts, and with that comes higher costs per click.
It's all about balancing the competitiveness of the keywords with the volume that they're operating at. Deciding on why types of terms are going to trigger your ads will depend on your budget, goals and situation. Established and authoritative websites may opt for dominating the high volume search terms, whilst newer ones may target terms with lower volume and less competition.
Adzooma is an online platform developed to improve your campaign performance and make your optimisation processes more efficient.
Offering support to campaigns across Google, Facebook and Microsoft, Adzooma's software uses machine learning to make suggestions that can help to improve your advertising efforts, with recommendations to help you reduce your budget wastage and get better results.
While Google Ads already provides account recommendations to improve performance, Adzooma goes a step further, with suggestions featuring a higher level of detail and being based on past successes. Through Adzooma, you can adjust your bidding strategies and targeting across all campaigns from just the one platform.
The main aim of Adzooma is to provide useful, easy methods of increasing your success through PPC, while decreasing the amount of time advertisers spend on the process, something it seems to do very well.
PPC Protect is a program that stops competitors and bots from mass-clicking on your Google Ads, causing you to burn through your budget at an alarming rate. You'd think that Google would have developed countermeasures for this but unfortunately there's nothing in place at the moment, so we turn to companies like PPC Protect to provide us with that extra protection.
PPC Protect monitors your Google Ads and keeps track of every click that you're gaining through the Search, Display and Shopping Networks. It considers IP addresses, ranges, devices and VPNs to help flag false clicks.
Each click your ad gets is ranked as either legitimate, suspicious or fraudulent, with this score assigned based on a large number of parameters. If the click fraud algorithm is triggered, the fraudulent IP is instantly added to your Google Ads IP exclusion list. The bot, or competitor, will no longer be able to drain your budget away.
Of course the main benefit here is the potential saved budget. If you're running large scale PPC campaigns on incredibly competitive search terms, products or services then this is a problem that you definitely need to be aware of. 
For PPC Protect to work, you need to first give the platform access to your Google Ads account and then place their tracking tag into your account settings. Two simple steps. The platform works with pretty much any and every website platform you can run with.
---
If you need help setting up and running an effective PPC campaign, why not get in touch with us today? Our PPC experts are already using all of these tools together to create strong campaigns that boost sales and produce results for our clients. Get in touch today!