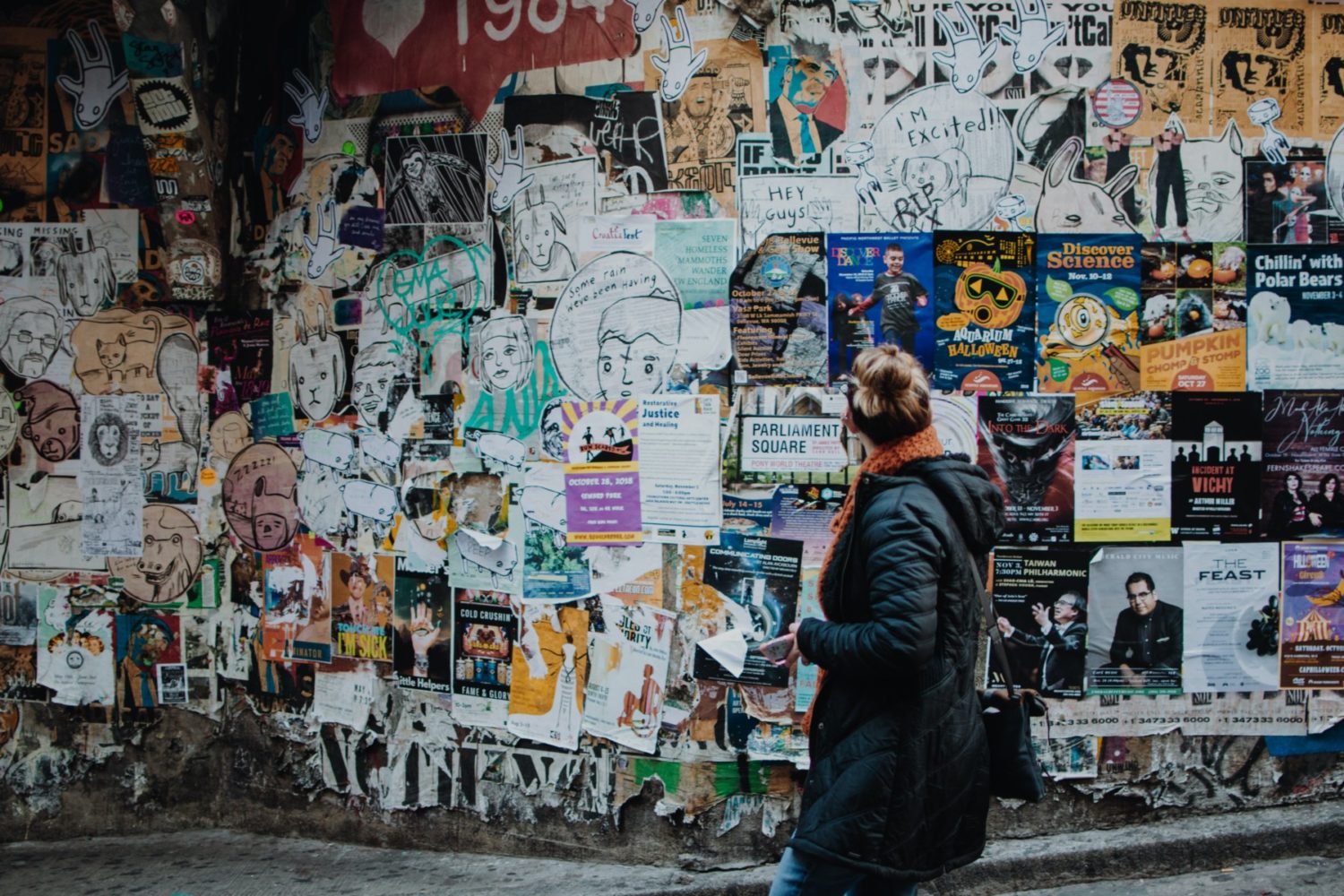 Google Display is an advertising format that utilises visual imagery, usually shown in the format of a banner ad containing photography, graphics and video. They're a great, on-brand way of advertising your products and services across the Google Display Network – a multitude of more than two million websites and apps.
Creating high quality display ads can provide a strong first impression to potential new customers, encouraging them to click through to your website and find out more about what you offer. It's important to use eye-catching imagery and well-written, optimised text to ensure audiences are inspired to interact with your ad.
There are multiple Google Ads formats such as Search & Shopping, all of which are effective in different ways. While Google Search displays your ads to users who are already searching for your product or service, Google Display can help you reach a larger or completely new audience, targeting people based on their interests or past online behaviour.
If you're a newly formed business, or have a new line of products out, you'll be looking to increase awareness of your brand, and should consider utilising Google Display ads. They're also worth thinking about if you're a well established business looking to increase their online footfall.
If you're running Google Display campaigns and want to get the best out of your budget, we've put together a series of tips for how to optimise your advertising.
Create responsive display ads for maximum coverage
The Google Display Network offers a very versatile advertising solution, with your ads able to be shown on any of more than 2 million websites that more than 90% of internet users worldwide have access to.
Because these websites are all designed in different ways and have various capabilities, there needs to be a broad selection of ad sizes for them to play host to. Web designers allocate space on their websites that can be used for selling advertising space, but it can't be one 'one size fits all'.
As such, Google Ads offers a set of sizes for advertisers to adhere to when designing their banner graphics.
Google Ads Display Sizes
Square & Rectangle:

200 x 200
240 x 400
250 x 250
250 x 360
300 x 250
336 x 280
580 x 400

Skyscraper:

120 x 600
160 x 600
300 x 600
300 x 1050

Leaderboard:

468 x 60
728 x 90
930 x 180
970 x 90
970 x 250
980 x 120

Mobile:

300 x 50
320 x 50
320 x 100
While it's possible to design ads in all of these dimensions, it can be a very time consuming process, and when it comes to making any minor tweaks in future you'd have to replicate them across all twenty different sizes.
Of course, you could just design graphics for 2-3 of the dimensions, but it means you'd be stopping your ads from appearing on websites that don't support those sizes. This is why utilising responsive display ads is worth considering.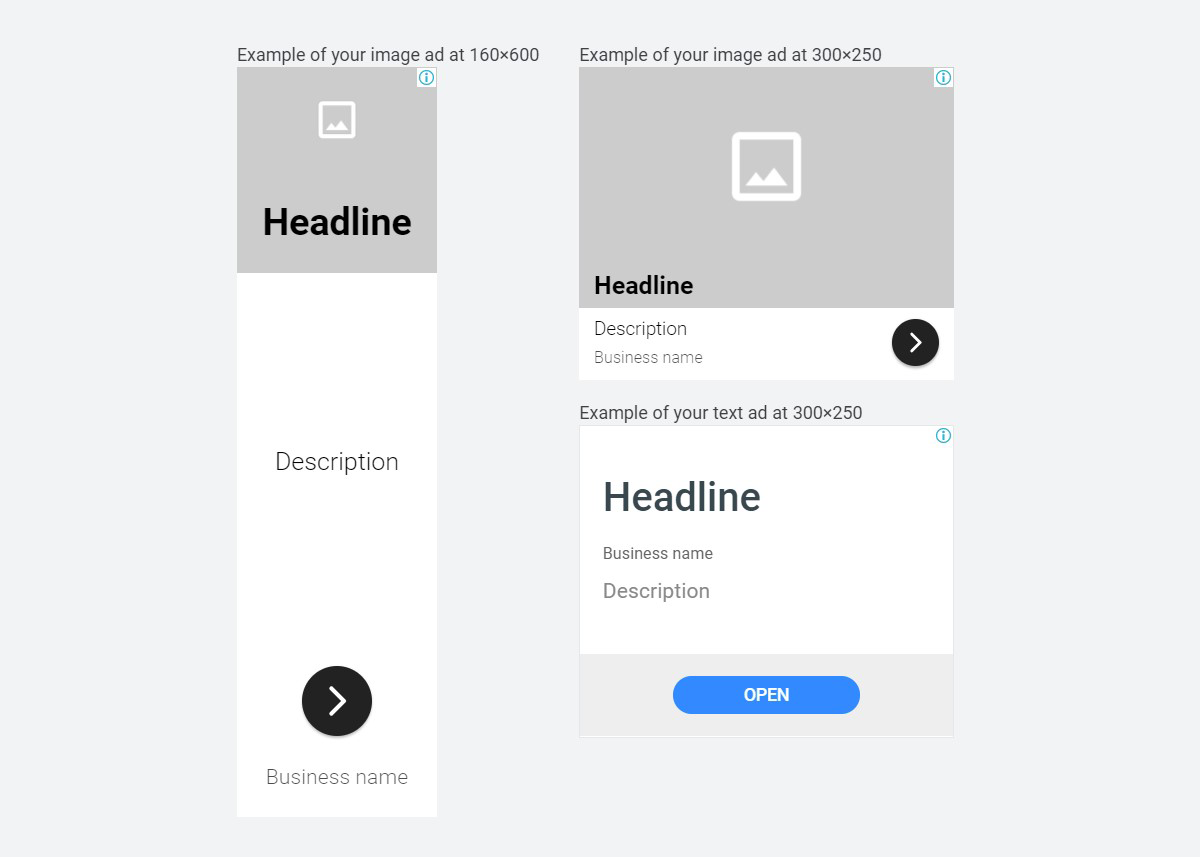 On the Google Ads interface, you can upload and input multiple elements for a responsive display ad, with these then being automatically combined to create ads across all of the various sizes. The elements you can add include:
Two or more high quality images, with at least one square and one landscape format
Your logo
Video content – typically around 30 seconds
Up to five 30 character headlines
Up to five 90 character descriptions
The name of your business
The URL of your landing page
Once done, Google chooses from your elements and takes care of the design themselves.
If you'd prefer to have a more hands-on approach for the design of your ads but still want to use the responsive format, you could use Google Web Designer.
Google Web Designer's software enables you to create ads with the functionality of animation and hover effects. It's also possible to create them in the responsive format, meaning your own designed elements can be compatible in all possible ad spaces.
Refine your ad designs
Your campaigns have been running well for a while now, but you're suddenly noticing slight dips and drops in your campaign performance. You'll want to consider refreshing your campaign so you are still achieving optimum levels of engagement, whilst creating something eye-catching that your audience will want to click on.
Why not try your hand at animation? Create a unique interactive animated ad that your users can enjoy clicking on, rather than a static image. If something is interactive it means users will have much more fun with your advert than you'd think!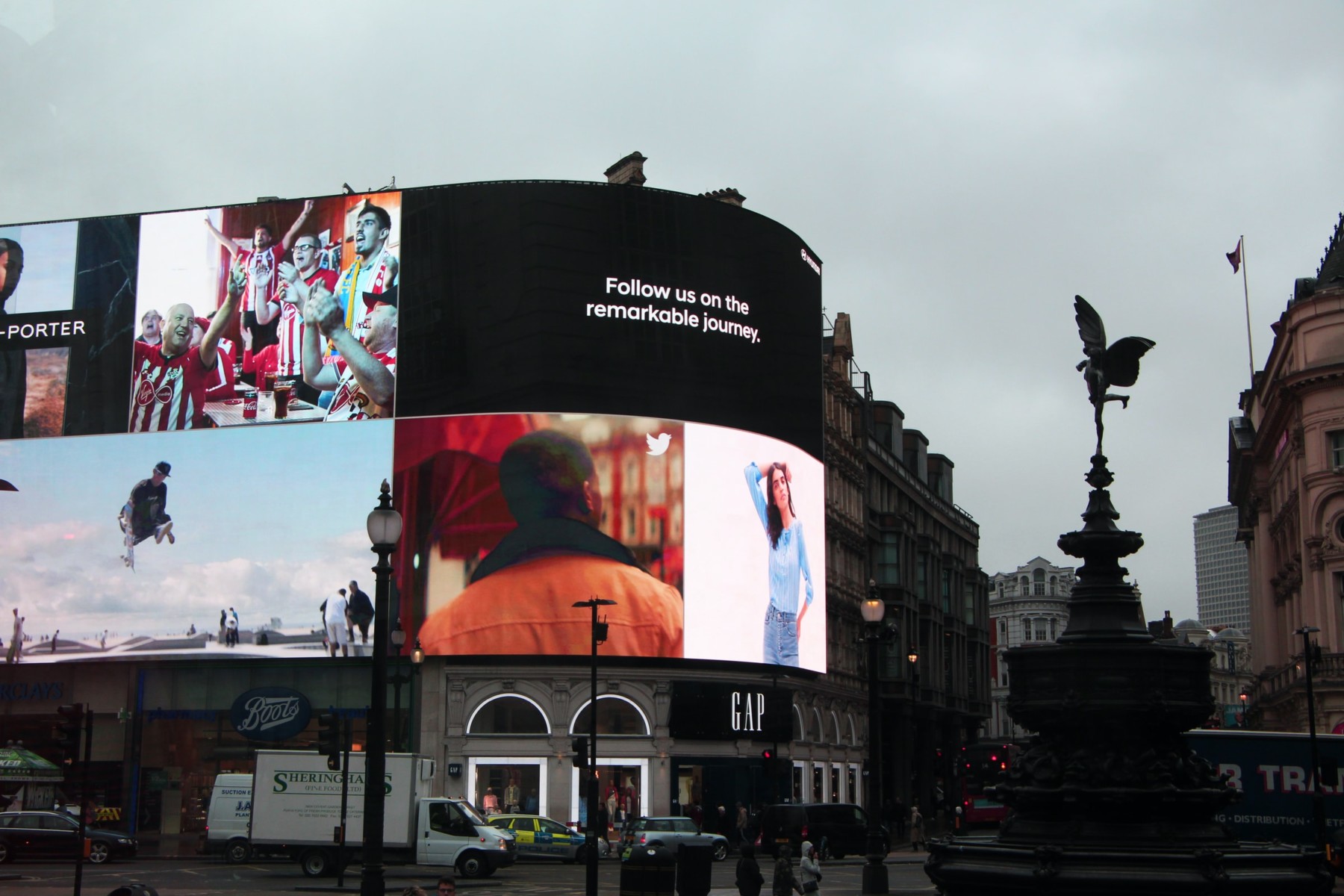 Why not add some bright, beautiful colour in there to make your advert really pop and stand out? You're trying to sell your brand to a digital audience who are viewing you through high-definition devices. Give them something good to look at! If a whole bunch of bright colours portrays the opposite to your brand image, why not try adding something that stands out like typography? A question or a word that could resonate with your users, pique their interest!
Last but not least, increase your number of CTAs! If you're creating an ad that doesn't have a call to action, you'd be silly to spend your money on it! You need to find every angle your user will want to venture down, so set a series of advertisements and make your CTAs as engaging as your visual concept. You'll thank yourself later for it.
Target users based on their search history
When it comes to Google Ads, there are varied targeting types across the different campaign formats. While Google Display primarily uses options such as remarketing and interest based targeting, Google Search is based around the keywords users utilise when looking for a product or service.
It means that Google Search generally has a higher conversion rate than display – the targeting on search can be incredibly precise, serving ads to users at the exact moment they're searching for something relevant, while display serves ads to users who Google's algorithms believe may be interested.
The more precise keyword method can be used on display ads though. Targeting users based on their browsing history is a common practise, particularly when it comes to interest-based advertising. Google enables you to show your display ads to users who have recently performed a search for keywords that fit your criteria.
As such, you can carry out keyword research for a display campaign in the same way you might for a search campaign. Useful tools such as Google Keyword Planner & the Semrush Keyword Magic Tool can provide you with data on the potential clicks of a keyword, further encouraging you to choose your keywords wisely. They can also give you suggestions for extra keywords, and give you an idea of how much the CPC could be.
Utilise bid adjustments for devices & placements
Taking advantage of Google's bid adjustment features is the perfect way to gain full control over where your Display ads are appearing, in order to increase engagement from the right people, at the right time.
Bid adjustments allow you to up the stakes (or lower them) in certain areas, depending on the performance of your campaign. Once you've got an idea of how your display ads have performed over a period of time, you can manipulate when and where your bids are being applied in order to maximise your advertising success.
By inputting either a positive or negative percentage value, you can tell Google to increase or decrease your bids at certain times, in specific locations, on different devices and much more.
For advertisers on the Google Display network, the two key areas we recommend optimising your bid adjustments are by placements & devices.
Device bid adjustments allow you to capitalise on the performance of your ads being shown on different devices – desktop, mobile and tablet.
For example, if you notice that your display ads are generating higher engagement on mobile, you might want to consider increasing your mobile bids – i.e. by adding +80%. This will maximise your opportunities for engagement and click-throughs, by increasing the chances of your display ads being showcased in more mobile searches.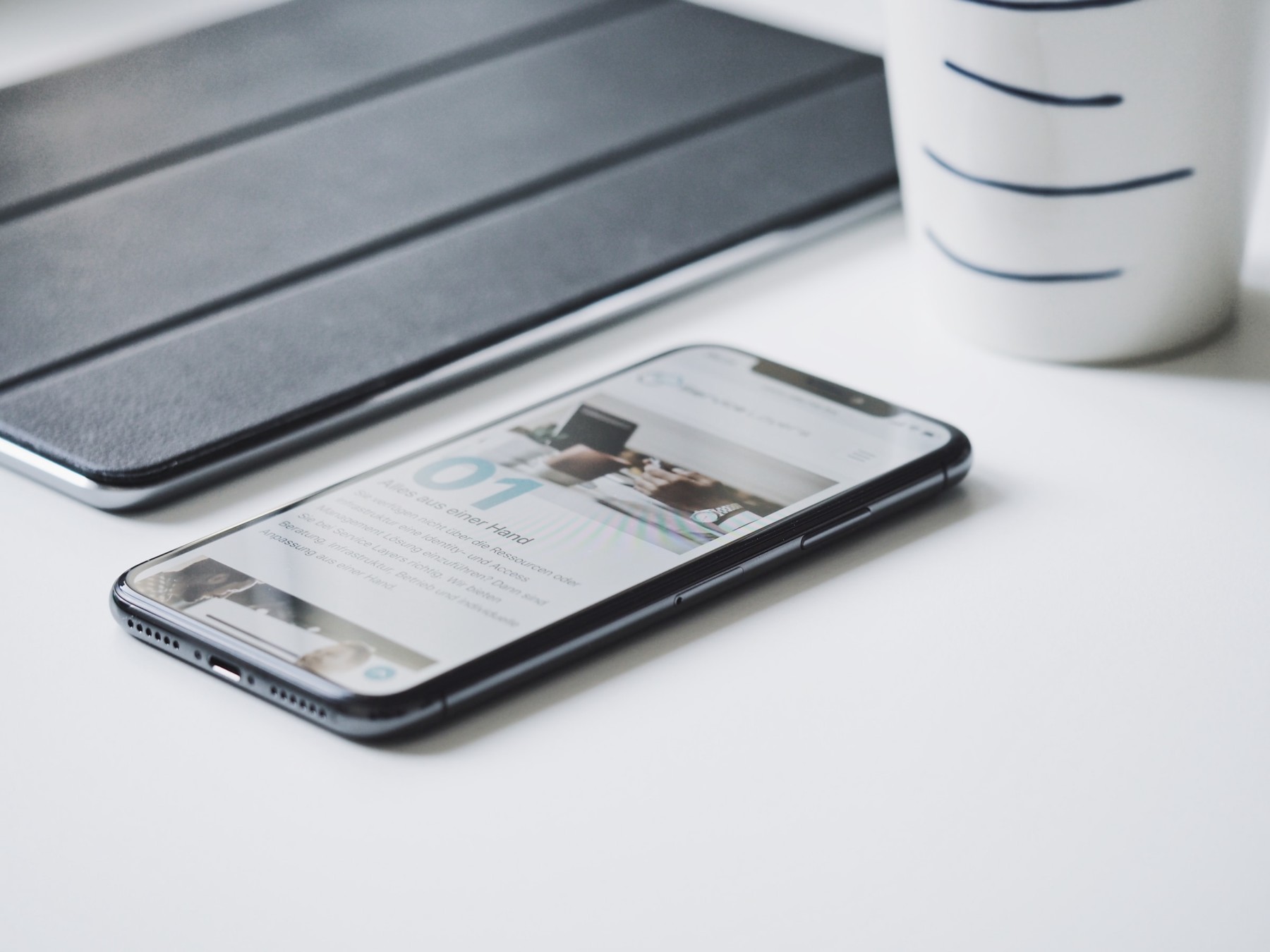 Placement bid adjustments are a powerful feature available to advertisers on the Display Network, allowing users to refine where their ads are being shown.
Available under 'targeting methods', this allows you to control your bids on specific placements within the Display Network. You can tailor your bids to increase when being displayed on more popular content, and topics & pages which typically generate higher engagement on your ads.
Add website exclusions for low performing placements
While you can choose the sites your ads show on based on their topics, you can also exclude certain sites from your campaign.
By default, if you're targeting users based on their interests, past search history, or remarketing your site to them, your ads can appear on all available Display Network websites.
This can sometimes create issues. For example, your branded ads could be appearing on a website that doesn't fit your brand values.
You could then add this website to your display exclusions list, stopping your ads from appearing there again.
Another way you can make use of this feature is to have a look at the "Where ads showed" section of your account. If there's a particular placement that has consistently generated poor results (no conversions, a low CTR, etc), then it might be worth adding it as an exclusion to better improve your campaign's performance and reduce budget wastage.
Monitor your audience results
A key point to consider is making sure you are frequently checking your target audiences are responding well to your ads.
You can do this by ticking the following boxes in your reporting:
Conversions
Were you able to achieve the conversions you were hoping for? What kind of conversion are you trying to achieve? What could you do differently to increase your chances of a better conversion rate in your next campaign?
Engagements
What type of engagement are you achieving with your campaign? Have you been able to respond to this engagement? Does the campaign lead to a page whereby you can answer questions and queries?
Site Visits
How has the number of site visits changed since your previous campaign? If this is your first campaign, think of a way in which you can improve your site visits and session time per user journey. This could be as simple as writing up a bit of engaging content to entice your users to read more and eventually enquire.
If you find these aren't performing well, you will need to figure out why you're not getting the most out of your campaign and why. As with all digital marketing, you are playing a game of trial and error. With enough research, understanding and evaluation, you will be able to design a campaign that will eventually tick on in the background whilst you find additional marketing tools to increase conversion and engagement.
---
Looking for further help with optimising your Google Display campaign? We can help!
Pixel Kicks have many years of experience executing highly effective PPC campaigns across the Google Display network. Find out more about our PPC services or get in touch with us today.