Looking for an ecommerce website created by experienced professionals that have been working in the industry since the late 90's?
Our Manchester based team have years of experience with Magento, WordPress & WooCommerce websites and can help with a solution to boost your online sales. Why not come in and visit us over a coffee, and let us guide you through the process of planning, designing, developing and launching a new ecommerce website to take your business to the next level.
If you're looking to replace your old store or thinking about a fresh new one, we can advise you on branding, order management, payment processing, security and much more. Once we've built and launched your new site we can also help with your online marketing, helping you improve your SEO as well as improving your social media exposure, PPC and promotional strategies.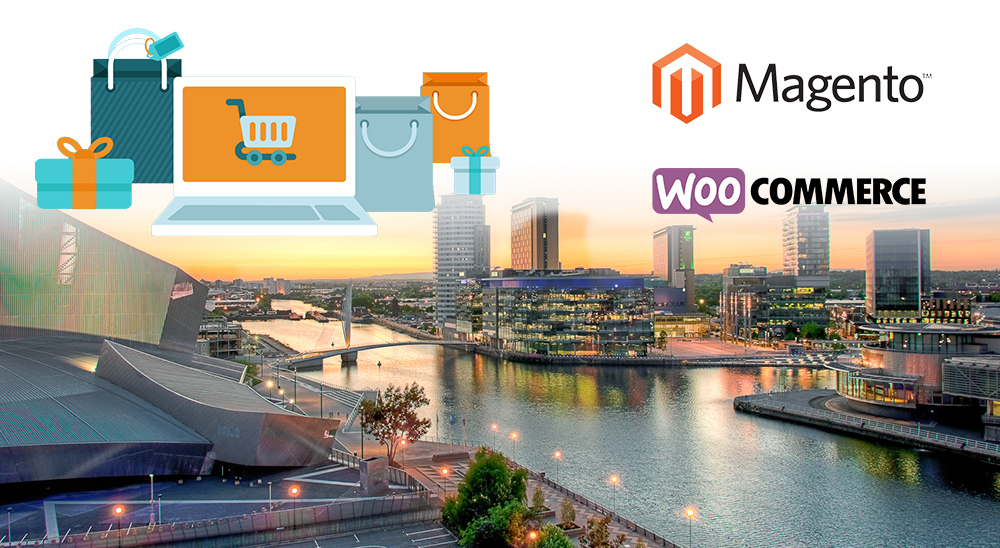 MediaCity, Salford Quays, Manchester
Ecommerce Facts 2015/2016
There are 3.26 billion internet users as at December 2015; that's over 40% of the world population
40% of global internet users, or more than 1 billion people, have bought products or goods online.
Britains are predicted set to spend £60bn online in 2016, as mobile and tablet use fuels an £8.9bn increase in online sales
Online retail sales in the U.K. reached an estimated £52.25 billion in 2015, with the average shopper spending £1,174
Digital interactions influenced retail sales to the tune of $2.2 trillion in 2015
By 2017, there will be more internet traffic than all prior internet years combined
The 2016 UK ecommerce market is the strongest in Europe and the third largest in the world, totaling $99 billion in 2015 and expected to reach $132 billion by 2018.
In 2015, 64% of all in-store sales, or sales to the tune of $2.2 trillion, were influenced by the internet.
Slow loading websites cost the U.S. ecommerce market more than $500 billion annually
The average transaction size in 2015 was £51.71 on tablet, £47.01 on smartphones, and £57.53 on desktops. This is predicted to rise to £54.91, £52.02 and £60.45 respectively in 2016
Personalized recommendations can increase conversion rates by up to 5.5 times.
Ecommerce sales from social media grew by 240% in 2015, and is expected to further increase.
UK online consumers respond well to purchasing incentives and will buy if they see an advantage, such as price, quality, superior design, branding or environmental benefits

Want to find out how we can help you sell more online?
Call us on 0161 713 1700 or send us a message here to speak to our Manchester based team.